Something Like A Dame Starring Michael Waters As Dame Edna (Mizner Cultural Arts Center- Boca Raton)
* Something Like A Dame Starring Michael Waters As Dame Edna
Tickets just went on sale…
Don't miss this one!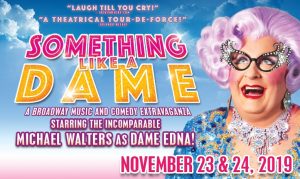 The Skinny:
Something Like A Dame Starring Michael Waters As Dame Edna
Saturday, November 23, 2019 (7;30pm)
Sunday, November 24, 2019 (2pm)
Mizner Park Cultural Center
201 Plaza Real
Boca Raton, Florida 33432
Box Office: (844)-672-2849
Tickets: miznerparkculturalcenter.com
from miznerparkculturalcenter.com
Sequins blaze and punchlines fly as celebrity impersonator Michael L. Walters pays unique homage to one of Australia's — and the world's — biggest stars, Dame Edna, in his loving parody, SOMETHING LIKE A DAME! The Diva from Down Under is back like you've never seen her before!
We promise you won't want to miss renowned vocalist and actor, Michael Walters, as he takes the stage by storm in this unique and critically-acclaimed parody of Dame Edna's fabulous Broadway shows! This fun-filled evening of glamour, music, and side-splitting laughter features incredible glittering gowns, outrageous comedy, original musical numbers, and of course a floral finale with Edna's signature gladioli! The Show has been hailed as a "Theatrical tour-de-force!"
Walters is sooo good when he dons the "wisteria" coif and rhinestone glasses of Dame Edna, that he received the blessing of Barry Humphries, Dame Edna's original creator, and appeared with Mr. Humphries at his special 2010 birthday event. Modestly described as "probably the most gifted and talented woman in the world today," Dame Edna has circled the globe dispensing sage advice and take-no-prisoners comedy to her beloved "possums."
And now, Walters — who has also traveled the world with his impeccable impersonation — brings his portrayal of Dame Edna to the Mizner Park Cultural Center!