The Original Bad Boys Of Comedy A.K.A. New York City Bad Boys! (Boca Black Box- Boca Raton)
* The Original Bad Boys Of Comedy A.K.A. New York City Bad Boys!
Just picked-up 2 tickets to see- two of the funniest "blue" comedians in the business- The "Reverend" Bob Levy and Artie Fletcher- at the Boca Black Box on Saturday, June 15th (9pm).
Trust Jeff Eats on this one, Levy and Fletcher are off the chart funny!
Don't miss them!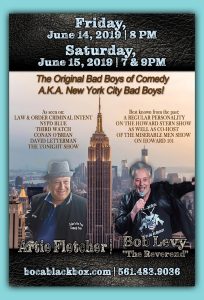 The Skinny:
The Original Bad Boys Of Comedy A.K.A. New York City Bad Boys!
Friday, June 14th, 2019 (8pm)
Saturday, June 15th, 2019 (7pm & 9pm)
Boca Black Box
8221 Glades Road Suite #10,
Boca Raton, Florida 33434
Box Office: 483.9036
Tickets: bocablackbox.com check goldstar.com for discount tickets
from bocablackbox.com
The "Reverend" Bob Levy is an American stand-up comedian, radio personality, and, for a brief period, a professional wrestler who is best known as being a regular personality on The Howard Stern Show as well as being the co-host of the Miserable Men show on Howard 101. He has often been the host of comedy roasts, was a frequent guest on the Opie and Anthony Show and was a stand-up comedy performer on the Killers of Comedy tour. During Levy's early days in comedy, former Stern show writer Jackie Martling awarded Levy the title "Reverend." When asked why he was given the name in an article, Levy replied "…because I was a filthy fuckin' pig, and he wanted to call me the opposite of what I was doing onstage…".
Artie Fletcher is one of the Entertainment Industry's most talked-about "must-see" performers
Artie has been seen on Law and Order, Conan O'Brien, David Letterman and The Tonight Show just to name a few! He has performed his dynamic act in such places as Las Vegas, Atlantic City, Radio City Music Hall, Westbury Music Fair, The Toyota Comedy Festival, The Chicago Comedy Festival, Universal Orlando and more! Artie opened for the likes of Joan Rivers, Regis Philbin, Howie Mandell and Tony Bennett. Regis Philbin described Artie's ability to entertain and adjust his act to any situation as "Just unbelievable!" Joan Rivers affirmed, "The most interesting thing about Artie is that I've never seen so much energy from any person on and off stage." Artie is currently on tour with The Jokes On You Comedy Tour with Bob Nelson and Jimmie JJ Walker. He also has tour dates with "The Reverend" Bob Levy!