Bee Gees Now! (Boca Black Box- Boca Raton)
* Bee Gees Now!.
Play the video…
I just picked-up 4 tickets for the 7pm show!
——-
Bee Gees Now!
Sunday, May 12th (2pm & 7pm)
Boca Black Box
8221 Glades Road #10
Boca Raton, Florida 33434
Box Office: 561.483.9036
Tickets: bocablackbox.com and goldstar.com (discount tickets)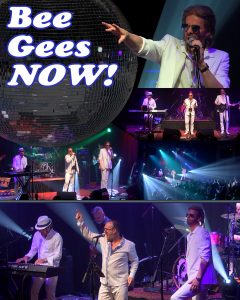 from bocablackbox.com
BEE GEES NOW! Put on your dancing shoes & get ready to experience Saturday Night Fever on Mother's Day! BEE GEES NOW! Presents a dynamic, interactive & thoroughly entertaining live tribute to the multi-platinum kings of disco.
BEE GEES NOW! Takes the audience on a masterful musical journey that mixes in the Bee Gees songbook of beautiful love ballads & dance fever inducing hits that made the Bee Gees a musical sensation.
Close your eyes & you will swear the real Gibb Brothers were performing! Open your eyes & experience the illusion that they're standing in front of you! Experience an incredible technical, theatrical production before you that touches your senses & effects your emotions. BEE GEES NOW! An unforgettable night of incredible entertainment awaits you.