Comedian- Vicki Barbolak (Boca Black Box- Boca Raton)
First told you guys about Comedian- Vicki Barbolak's Boca Black Box upcoming Thursday- May 16, 2019 (8pm)/ Friday- May 17, 2019 (8pm)/ Saturday- May 18, 2019 (7pm & 9pm) shows on December 16, 2018. Just checked the the Boca Black Box box-office (bocablackbox.com) and goldster.com (discount tickets) and there are a handful of really good seats still available for all 4 shows. All I can tell you guys- you don't want to miss Vicki Barbolak!
By the way, printed down below is Barbolak's up to date- "tour schedule"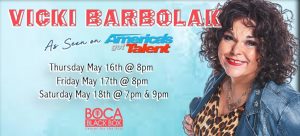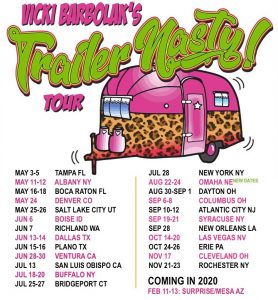 Posted on December 16th, 2018
* Comedian- Vicki Barbolak.
Mark my words- over the next several years Vicki Barbolak is destined to become one of America's top draw comedians…there is no limit to where this talent will play- showrooms, tv sitcoms, movies!
I urge you- not to miss her- as her journey to super stardom has just begun!
Just announced…
Comedian- Vicki Barbolak.
Thursday, May 16, 2019 (8pm)
Friday, May, 17, 2019 (8pm)
Saturday, May 18th, 2019 (7pm & 9pm)
Boca Black Box
8221 Glades Road Suite #10,
Boca Raton, Florida 33434
Box Office: 483.9036
Tickets: bocablackbox.com check goldstar.com for discount tickets
from bocablackbox.com
A LITTLE ABOUT VICKI…
Vicki Barbolak's mission is to bring laughter to the world. In addition to traveling the world performing comedy, Vicki also speaks at organizations and conferences on ways to bring appropriate "Funny" back into the workplace.
Vicki was a TOP 10 finalist and fan favorite on Season 13 of America's Got Talent on NBC. Howie Mandel told Vicki and America, "I think you just came up with your own sitcom. There's room for someone like you in a sitcom, your wonderful I love you."
Since being on AGT, Vicki has embarked on an international tour and launched her own podcast called "Trailer Nasty with Vicki Barbolak". When Vicki was 38 years young, she saw an ad for a stand-up comedy class. That class changed her life. Vicki quickly realized that making people laugh gave her more happiness than she ever dreamed possible. After a few years of open mic nights, Vicki was taken under the wing of Mitzi Shore, owner of The Comedy Store where Vicki developed as a Comedian. In the 20 years since, Vicki 's been named a member of Jay Leno's NBC Laugh Squad, Won Funniest Mom In America on Nick @ Nite, and has been featured by E! Television as the Next Breakout Star to come from The Comedy Store.