DISH OF THE WEEK (Sunday- 4/7/19- J&C Subs- Port Saint Lucie)
***** DISH OF THE WEEK (Sunday- 4/7/19- J & C Subs).
One of Jeff Eats' favorite menu items…
6" TURKEY BLT
(Turkey/Bacon/Muenster Cheese/Lettuce/Tomatoes)
$5.69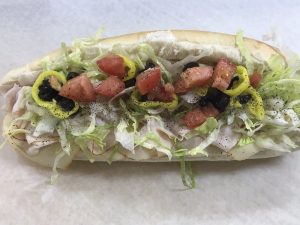 J & C Subs
1015 Southwest Bayshore Boulevard
Port Saint Lucie
(772) 336-9485.
Latest Review: 6/12/18
Trust Jeff Eats on this one, this Turkey BLT is off the chart delicious…
Posted on June 12th, 2018
***** J & C Subs, 1015 Southwest Bayshore Boulevard, Port Saint Lucie, Florida 34983, (772) 336-9485.
Found a real good sub joint for you guys to checkout- J & C Subs in Port Saint Lucie.
Real simple concept at work here, order/pickup at counter, one 2 seat table inside, delicious reasonably priced salads/soups/6" & 12" hot & sold subs/wraps, nice sized selection of can-bottled beers/can-bottled sodas/bottled wines.
Long story short, yesterday- Jeff Eats was in Port Saint Lucie doing some business with some guys…the three of us picked up some subs for lunch and "shared" them in the conference room that we were working in.
Let me wrap-up J & C Subs by saying- that our eyes were way bigger than our stomachs! Trust Jeff Eats when I tell you, that the combination of J & C's delicious subs and terrific beer/wine selections- made for a real pleasant lunch!
You can check menu/prices/info at jncsubs.com.
J & C Subs is open Sunday 11am-5pm, Monday-Saturday 10am-7:30pm.