Pop, Rock & Doo Wopp Live! (Carole & Barry Kaye Auditorium at FAU-Boca Raton)
This article first appeared on 10/17/18. Just checked the fauevents.universitytickets.com and there is a very small handful of tickets still available- so, if you wanna go and haven't yet bought tickets, time to make a move on the ticket front!
Posted on October 17th, 2018.
* Pop, Rock & Doo Wopp Live!
Tickets just went on sale…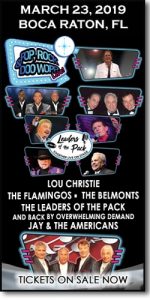 Pop, Rock & Doo Wopp Live!
Saturday, Mar 23, 2019 at 7:30 PM
Pop, Rock & Doo Wopp Live!
Carole & Barry Kaye Auditorium at FAU
777 Glades Road
Boca Raton, Florida 33431
Box Office: (561) 297-6124
Tickets: poprockdoowopp.com
from poprockdoowopp.com
Pop, Rock & Doo Wopp returns to FAU for the 7th consecutive year starring some Boca debuts and some of your favorites who are back by popular demand! Starring… Lou Christie ("Lightning Strikes", "I'm Gonna Make You Mind", "Two Faces Have I", "The Gypsy Cried"), Rock & Roll Hall of Famers The Flamingos ("I Only Have Eyes for You", "Lovers Never Say Goodbye", "Mio Amore"), The Belmonts ("A Teenager in Love", "Where or When", "I Wonder Why", "That's My Desire") and The Leaders of the Pack – four original lead singers live on stage, all together, for the first time – Larry Chance of the Earls ("Remember When", "I Believe"), Vito Picone of the Elegants ("Little Star"), Emil Stucchio of the Classics ("Till Then") and Joey Dee of the Starliters ("Peppermint Twist").PLUS – due to overwhelming demand from last year's audience and so many fans who could not get tickets for our last show, we're bringing back Jay & the Americans for an encore performance – all the hits you remember in an all-new show ("This Magic Moment", "Come a Little Bit Closer", "Cara Mia", "Walkin' in the Rain", "Only in America", "Some Enchanted Evening" and more!) All acts feature original members. Presented by Praia Entertainment Group.