Andrew Dice Clay (Boca Black Box- Boca Raton)
First told you guys about Andrew Dice Clay's upcoming Thursday, 3/7/19- Friday, 3/8/19- Saturday, 3/9/19 Boca Black Box shows on December 26, 2018. Just checked the box-office (bocablackbox.com) and goldstar.com (discount tickets) and there are a handful of tickets still available…Look! I know that Dice is a very controversial fellow- that said, if you haven't yet seen him live, do yourself a big favor and go see him! Just between you guys and Jeff Eats, Andrew Dice Clay is a living legend and will go down in history as one America's most famous comedians of all time! Jeff Eats has seen Dice many times and I absolutely love the guy! For you guys who are still on the fence, try him, you may like him!- and like I just said he's a living legend!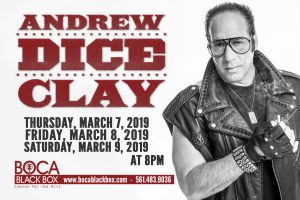 Posted on December 26th, 2018
* Andrew Dice Clay.
Just announced…
One of America's most controversial, outrageous, brilliant, famous, talented, legendary comedians is coming to Boca Raton's Boca Black Box!
The Skinny:
Andrew Dice Clay
Thursday, 3/7/19 (8pm)
Friday, 3/8/19 (8pm)
Saturday, 3/9/19 (8pm)
Boca Black Box
8221 Glades Road, Boca Raton, Florida 33434
Box Office:(561)483-9036
Tickets: bocablackbox.com check goldstar.com (discount tickets)