Yolk (Boca Raton)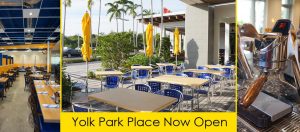 Yolk, 5570 North Military Trail, Boca Raton, Florida 33496, (561) 300-4965.
Yolk is a breakfast/lunch- joint that opened something like 3 weeks ago in Boca Raton.
For the record, Yolk currently has 8 locations in Chicago, 3 locations in Indianapolis, 1 location in Fort Worth, 2 locations in Dallas and the aforemtioned Boca Raton location!
You can check menu/prices/locations/info at eatyolk.com.
Yolk is open 7 days a week 7am-3pm.
Last week Jeff Eats and 3 buddies- ate breakfast at the Boca Raton location (which has indoor booth/ counter/ table seating and outdoor table/ counter seating) and I gotta tell you that the only difference between the Titanic and Yolk is that the Titanic had a band!-(I know, overly dramatic!).
In a nutshell- amateurish service, big time mediocre over-priced food!
Rather than go into detail and color about our meal- trust me when I tell you that the joint batted 4 out of 4- with each of us rating the food and service lousy. Just so you know where I'm coming from, my waffle with fried chicken and scrambled eggs had absolutely (and I do mean, absolutely) no taste whatsoever- when the chicken was then "foolishly" topped by me with the gravy side, it was so horrendously salty- that the entire dish then became a totally inedible disaster! Look! Jeff Eats is a pretty easy going guy, but I just hate when I get rolled!
The bet here, is that the guy(s) who owns (I'm thinking that the Boca Raton location is a franchise-or operating partner type deal) isn't gonna be a happy financial-camper with this Florida venture! The joint's lousy location and the area's piss poor demographics are a story for another day!
Now, you guys and I both know that Jeff Eats could be dead wrong on "this" call- you know, what I like, you might hate and vice versa…with that in mind, if you have already tried/ or do decide to try Yolk- I'd be interested in your respective thoughts!