The Fabulous Rat Pack Undead (Boca Black Box- Boca Raton)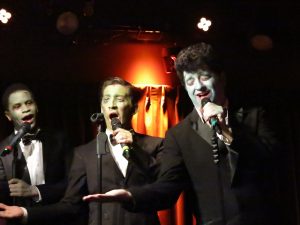 * The Fabulous Rat Pack Undead.
Just announced…
Jeff Eats and Mrs. Jeff Eats have seen the show- campy, cool, clever, funny!
Don't miss it!
Definitely gonna be a SRO situation- so if you wanna go, don't dilly dally around on the ticket buying front!
The Skinny:
THE FABULOUS RAT PACK UNDEAD
Tuesday, October 29th, 2019 (8pm)
Boca Black Box
8221 Glades Road Suite #10,
Boca Raton, Florida 33434
Box Office: 483.9036
Tickets: bocablackbox.com check goldstar.com for discount tickets
from bocablackbox.com
HALLOWEEN HIT comes to Boca Raton for ONE NIGHT ONLY!
THE RAT PACK UNDEAD – Direct from NYC!
One thing's for sure, They may be Dead, But their voices aren't!
Frank Sinatra, Dean Martin and Sammy Davis Jr. are back in the spotlight, back from the dead crooning their hearts out for the literally undead show that critics have raved blew them away and left them wanting more. Having come back from the dead, The Pack adds a spookish spin to their biggest hits, changing up their lyrics to honor their undead lifestyles. More comical than creepy, more entertaining than eerie, you'll hear all of your favorite Rat Pack tunes with an "undead" twist, including "Come Die With Me," "Ly Me in the Tomb", "What Kind of Ghoul Am I?", and many more!
"Rat Pack Undead BLEW US AWAY!" – Claridge Hotel, Atlantic City
"It left us wanting more" – Marilyn Miller, former girlfriend of Frank Sinatra
"Truly fine incarnations of the stars" – AndyB Sports & More Reporter