Doughnut Works (Delray Beach)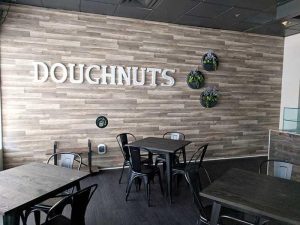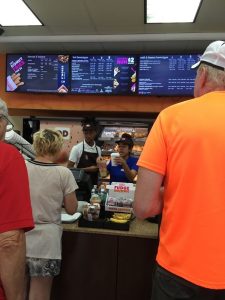 ***** Doughnut Works, 301 West Atlantic Avenue, Delray Beach, Florida 33444, (561) 808-7122.
Got a real good donut joint for you guys to check-out, Doughnut Works in Delray Beach.
Simple concept at work here…mini bite-size cake doughnuts topped with all kinds of stuff/ breakfast sandwiches, order-pickup at counter, handful of tables, open 7 days a week 7am-3pm.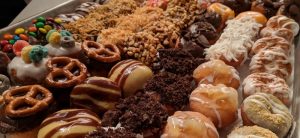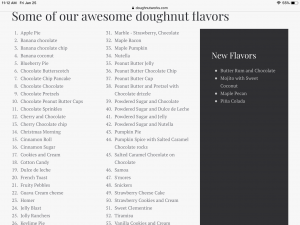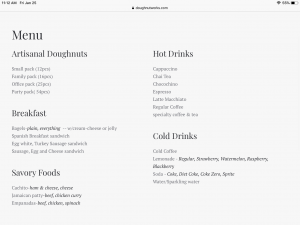 Yesterday morning, Jeff Eats and Mrs. Jeff Eats "discovered" Doughnut Works (which opened in July, 2018) and trust me- the joint's doughnuts are absolutely delicious! Just so everybody here is on the same page, we are talking topped mini bite-size cake doughnuts, with not a yeast or for that matter a full size doughnut anywhere in sight. Minimum order 12 doughnuts at $8.85.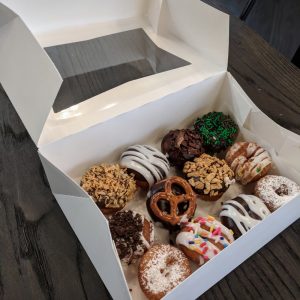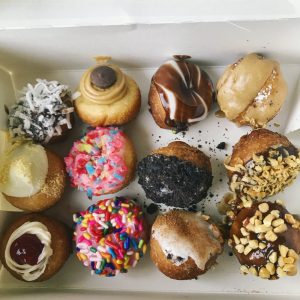 Just a quick observation, over the past 18 months or so- I've literally seen mini doughnut joints like Doughnut Works popping-up all over Florida. For sure it's an interesting concept, but I'm kinda thinking that this concept maybe a FAD in the making! Just a word to the wise, Dunkin' Donuts recently changed its name to simply Dunkin'- just maybe, doughnuts or donuts (or whatever you want to call them)- alone aren't enough to successfully carry retail stores! Just take a look at Dunkin's menu (dunkindonuts.com) and you'll see what Jeff Eats is talking about!
In any event- Doughnut Works' doughnuts are delicious and…
You guys can checkout Doughnut Works' menu/prices/info at doughnutworks.com.