A Tribute To The Jersey Boys w/William Cintron (Boca Black Box- Boca Raton)
This story first appeared on January 3, 2019.
Just checked the Boca Black Box box-office (bocablackbox.com) and goldstar.com (discount tickets) and there are a handful of real good tickets left for tonight's show. Trust Jeff Eats on this one, if you like Frankie Valli & The Four Seasons- then you will absolutely love A Tribute To The Jersey Boys w/William Cintron. Jeff Eats and Mrs. Jeff Eats have seen the show twice and I am telling you guys- that it's absolutely terrific.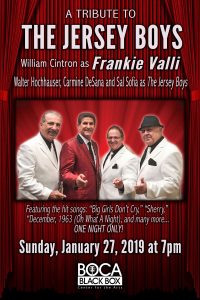 Posted on January 3rd, 2019
* A Tribute To The Jersey Boys w/William Cintron.
Jeff Eats and Mrs. Jeff Eats have seen the show twice- trust me when I tell you- absolute dynamite!
Tickets just went on sale…
A Tribute To The Jersey Boys w/William Cintron
Sunday, January 27th, 2019 (7pm)
Boca Black Box
8221 Glades Road Suite #10,
Boca Raton, Florida 33434
Box Office: 483.9036
Tickets: bocablackbox.com check goldstar.com for discount tickets
from bocablackbox.com
Don't miss a tribute show unlike any other, A TRIBUTE TO THE JERSEY BOYS, starring William Cintron, Carmine DeSana, Walter Hochhauser and Sal Sofia – featuring the hit songs "Big Girls Don't Cry," "Sherry," "December, 1963 (Oh What A Night), and many more – live at THE BOX!
William Cintron as Frankie Valli
Don't miss William Cintron, best known for his superb vocals of Frankie Valli, as he comes to THE BOX for ONE SHOW ONLY!
Originally from Brooklyn, NY, William has performed and shared the same stage with The Platters, The Temptations, The Delfonics, Chubby Tavares of The Tavares, Larry Chance and the Earls, The New Supremes, The Diamonds, The Coasters, The Drifters, The Mystics, J.T. Carter of The Original Crests, Eddie Holman, Peter Lemongello, Jimmy Gallagher of The Passions, and The Main Ingredient featuring Cuba Gooding Sr.
Past performances include: The World Famous Apollo Theatre, The Four Century Villages of South Florida, The Villages of Lady Lake, Savannah Center In The Villages, Disney's Contemporary Resort and Epcot Center, Universal Studios City Jazz and Motown Cafe, Viva Osceola, Latin Fest in Kissimmee, and many prestigious country clubs throughout Florida.
Walter Hochhauser, Carmine DeSana and Sal Sofia as The Jersey Boys
Walter Hochhauser was born in Brooklyn, NY, and moved to Florida in 1961 where he began singing in some of Miami's most notable hotels. In 1980, he joined REUNION as the lead singer, playing local venues and Rock N' Roll shows throughout the state and in the Bahamas. In 2004, REUNION recorded the CD "Miracles," featuring Walter on lead for many of their arrangements. In 1999, Walter had the privilege and pleasure of recording vocal tracks for Dion DiMucci's "New Master's" Album, and today, continues to record songs with Dion being seen and shared through social media.
Carmine DeSena was born in Brooklyn, NY, and was one of the original members of the Creations and Riffs and in the 1970's he sang with the Ribtones. In 1980, he moved to Florida, and teamed up with Joel Bressler to create REUNION, South Florida's Premier Show Band. Carmine is also called upon by Dion DiMucci as Baritone on his video recordings shared on social media. Carmine has been influential with "keeping the music alive," and has been a member of many well known Doo-wop and oldies groups, bringing decades of harmony experience, energy, and excitement to every show he performs in.
Sal Sofia hails from the Bronx, NY, where he grew up with a family of singers, musicians, and entertainers. With a deep affection for music and harmony, he became interested in the deeper vocal group sounds of the 50's and set out to host his own show, the Doo-Wop Groove on AM/FM stations, heard throughout the New York area. Sal has been a collector of the "rare" sounds of the genre and moved to Florida in 2003, where he began singing with several local acapella groups, achieving notoriety with The Dons of Doo Wop, a successful acapella group. Today, he can be seen and heard joining Dion DiMucci with his strong second tenor style on recordings Dion shares across social media to all of his fans.