ARTRAGEOUS (Township Center for Performing Arts- Coconut Creek)
* ARTRAGEOUS.
Just got 2 tickets for tonight's show…
Watch the video…
Township Center for Performing Arts
2424 Lyons Road
Coconut Creek, FL 33063
Package A Thursday, Jan 24, 2019 8 pm
Package B Friday, Jan 25, 2019 8 pm
Tickets: 954.970.0606
from townshipcoconutcreek.com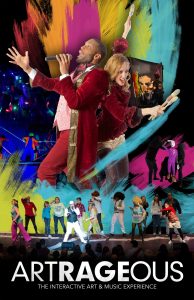 IMAGINE an artist creating a masterpiece before your eyes in mere moments! Come with us on a unique visual journey packed with wild inspiration, creativity and fun! This troupe of artists, musicians, singers and dancers pay tribute to a variety of art forms, like pop icons and musical genres – with a palette that also mixes captivating vocals, intricate choreography and exciting audience interaction – culminating in a gallery of fabulous finished paintings. The result? A one-of-a-kind crossover experience! The signature of the Artrageous Troupe is interaction and engagement, so be prepared to be part of the show!