The Amazing Kreskin Live! (Mizner Park Cultural Center- Boca Raton)
This story first appeared on 11/24/18. Just checked the Mizner Park Cultural Center's box-office (miznerparkculturalcenter.com) and there are just a handful of tickets left- for what should be an absolute dynamite show! Not trying to be mean or wishing anything bad- but you guys do know that The Amazing Kreskin just turned 84!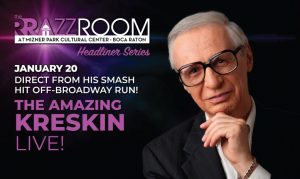 Posted on November 24, 2018
* The Amazing Kreskin Live!
The man is a legendary performer…
Jeff Eats and Mrs. Jeff Eats are going.
Tickets just went on sale…
The Skinny:
The Amazing Kreskin Live!
Sunday, January 20, 2019 7:00PM
Mizner Park Cultural Center
201 Plaza Real
Boca Raton, Florida 33432
Box Office: (844)-672-2849
Tickets: miznerparkculturalcenter.com
from miznerparkculturalcenter.com
THE AMAZING KRESKIN LIVE!
The legendary mentalist, The Amazing Kreskin, brings his world famous live show to Boca Raton! This jaw-dropping show will blow your mind.
"Even now I know what you're thinking." -Kreskin
"Kreskin is the best mentalist in the world. Every time Kreskin is here he astounds us!" -David Letterman
"This is the most amazing thing I've ever seen! It's a brilliant show… everyone knows it's brilliant. I don't think what Kreskin does is magic or tricks… I think he can read minds." -Howard Stern
"The foremost mentalist of this or any generation." -Bill Maher
"It is a pleasure and an honor to have you on our show! I'm excited to have you back whenever you want!" -Jimmy Fallon
———-
Amazing Kreskin Bio
With a showman's flair, a comedian's wit, and the capacities of a bona fide Mentalist or thought reader, The Amazing Kreskin has, for six decades, dramatized the unique facets of the human mind…his own. His very name has become an integral part of pop culture throughout the world. During the past fifty years Kreskin has had a television series, his own board game by Milton Bradley, twenty published books, and a major motion picture inspired by his work. In the 1970's Kreskin headlined his own television series for five and a half seasons called, 'The Amazing World of Kreskin' which can now be viewed on www.hulu.com. The airline industry estimates that Kreskin has flown over 3 million miles, to reach a vast international audience with his unique brand of Mentalism. To reveal his remarkable diversity, John Romero, a leading gaming authority quotes in his book, 'Las Vegas The Untold Story' "Kreskin is the most dangerous person in the world with a deck of cards. The casinos would rather deal to Willie Sutton". Actor/Producer Tom Hanks released in 2009 the feature film, 'The Great Buck Howard". It is announced at the end of the movie that the inspiration for the main character is The Amazing Kreskin. That character is played by the star of the movie, John Malkovich. In the 2010 movie, 'Dinner for Schmucks', the character played by Zach Galifianakis has as his hero and influence The Amazing Kreskin, which further exemplifies the wide scope of Kreskin's exposure and attention. It is showcased with his recurring appearances on Johnny Carson, Regis Philbin, David Letterman and most recently Jimmy Fallon, Neil Cavuto and Howard Stern. 2014 brought a whole new realm to Kreskin's arsenal when he mentally trained three up and coming boxers to victory. One of the winners was Heather "The Heat" Hardy and he was further brought in to prepare and condition her mentally for a contest of worldwide dimension. In October of 2014, he was brought into the ring to join her in the celebration of her success; a success that he helped prepare her for in the preceding months. She had just won the WBC International Junior Featherweight Championship of the World. Through the years Kreskin has received worldwide recognition for extraordinary predictions, often dealing with international affairs, and sports. On Late Night with Jimmy Fallon, Kreskin predicted the 2012 United States Presidential Election, 18 months before Election Day. As revealed on Fox television for the 2016 Super Bowl, Kreskin made three predictions. He foresaw the deciding quarter of the game, the winning team, and their final score. In March 2016 Kreskin released his 20th book entitled, "In Real Time" featuring his major predictions for the next several hundred years. The day after Donald Trump was elected to the Presidency, Fox Television News revealed that Kreskin predicted Trumps election 11 months ahead of time, Live on December 9th, 2015 on FOX 5 Good Day DC Show in Washington, D.C. Kreskin now offers the sum of 1 Million dollars to anyone who can prove that he employs paid secret assistants, or confederates, or utilizes hidden, secret, electronic devices to accomplish his mental presentations. At 83 years of age, Kreskin shows no signs of slowing down. He continues to perform his legendary live shows in front of packed audiences around the world, playing over 200+ dates yearly.
Be Sociable, Share!