Lynne Koplitz- Hormonal Beast Tour (Boca Black Box- Boca Raton)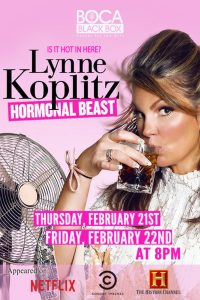 * Lynne Koplitz- Hormonal Beat Tour.
Just announced…
One of the funniest "light blue" comedians currently working America's comedy club circuit.
The Skinny:
Lynne Koplitz- Hormonal Beast Tour
Thursday, February, 21, 2019 (8pm)
Friday, February 22, 2019 (8pm)
Boca Black Box
8221 Glades Road Suite #10,
Boca Raton, Florida 33434
Box Office: 483.9036
Tickets: bocablackbox.com check goldstar.com for discount tickets
from bocablackbox.com
Born in New York, but raised in Florida, Lynne Koplitz never lost her Long Island bite. After graduating from Troy University in 1992 with a degree in Theatre Arts and receiving a masters in Education Language Arts, Lynne began following her passion into comedy. Since that day, she has experienced a whirlwind of success on both stage and television. Lynne became the first woman since Roseanne Barr to sign a development deal with legendary producer Tom Werner at Warner Brothers.
On television, Lynne was a regular on Joan and Melissa: Joan Knows Best. She also starred on the IFC cult favorite Z Rock. Lynne has been featured on The Late Late Show with Craig Ferguson, Tough Crowd with Colin Quinn, Comedy Knockout, and had her own special; Comedy Central Presents Lynne Koplitz. Koplitz can be heard co-hosting the radio show Star Talk with legendary astrophysicist Dr. Neil deGrasse Tyson and seen as a panelist on the History Channel's History of the Joke hosted by Lewis Black. Lynne is also a featured comedian in Jenny McCarthy's Epix comedy special "Dirty, Sexy, Funny," and her 2016 Netflix special "Hormonal Beast" is getting rave reviews! She is one of the most respected comedians in New York, and has recently opened for both Chris Rock and Louie CK.