DISH OF THE WEEK (Sunday- 1/13/19- Trader Joe's)
***** DISH OF THE WEEK (Sunday- 1/13/19- Trader Joe's).
One of Jeff Eats' favorite menu items…
TRADER JOE'S HOT COCOA DUNKERS
15oz tub
$3.99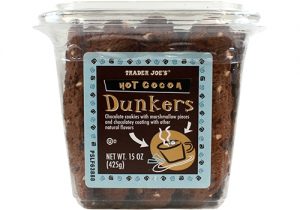 Trader Joe's
Check traderjoes.com for multiple locations/info
Latest Review: None
These dunkers are spectacular with hot cups of cocoa and black coffee. My long-time friend, Stan Abromowitz loves these dunkers with a cold glass of milk- which between you guys and Jeff Eats is a story for a whole nother day!
from traderjoes.com
Made with real cocoa, dipped in a chocolaty coating, and studded with chocolate chunks & marshmallow pieces, our Hot Cocoa Dunkers are just what you'd expect from a cup of hot cocoa… in cookie form. They're perfectly engineered for dunking – we're talking structural integrity and submersion optimization here, folks. These easy-to-grip, chocolaty oblongs are long, slim, and super-crunchy by design; you can dunk with delight, free from that nagging fear of losing your small, disintegrating cookie to your tall glass of milk. Dip your Dunkers in that glass of milk, a cup of coffee, or get majorly meta and drench them in hot cocoa itself. (A mug of Salted Caramel Hot Cocoa perhaps?)
We're selling each 15 ounce tub of Hot Cocoa Dunkers for $3.99 – a value that's sure to make you feel all warm n' cozy inside, and one that's available only at your neighborhood Trader Joe's.