12 Count Office Pack Donuts (Walmart Supercenter- Delray Beach)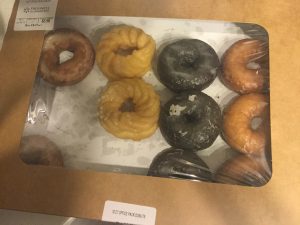 ***** 12 Count Office Pack Donuts.
About 13 minutes ago I picked-up a $3.98 box of- 12 Count Office Pack Donuts at the Walmart Supercenter, 16205 South Military Trail, Delray Beach, Florida 33484- and I gotta tell you guys, that there are definitely (in this case-12, 2 down, 10 to go) pluses to being a one-man office!
Just so we are straight with each other, for $3.98 Walmart isn't exactly giving you off the chart delicious stuff- that said, trust Jeff Eats when I tell you- the donuts will definitely work for you!
You can check Walmart.com for store locations/product info.