Celebrate- A Tribute to Three Dog Night (Boca Black Box- Boca Raton)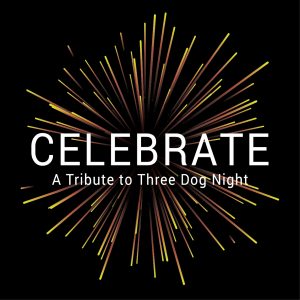 * Celebrate- A Tribute to Three Dog Night.
Got an absolutely terrific tribute "show" for you Three Dog Night fans out there…

Celebrate- A tribute to Three Dog Night
Saturday, January 5, 2019 (8pm)
Boca Black Box
8221 Glades Road Suite #10,
Boca Raton, Florida 33434
Box Office: 483.9036
Tickets: bocablackbox.com check goldstar.com for discount tickets
from bocablackbox.com
CELEBRATE – A Tribute to Three Dog Night is South Florida's first Three Dog Night tribute band recreating the timeless songs from one of the world's most prolific harmony bands best known for more than two dozen top hits from the late 1960s and 1970s including "Celebrate," "Mama Told Me Not to Come," "One," "Eli's Coming" and "Easy to Be Hard."
Despite the name's implication, Three Dog Night was a seven-man band. The focus was on the singers most of the time, but the guys in the band played a huge part in giving the group their top-notch sound. CELEBRATE features Fred Ferrese, John Justice Parker and Fred Moore – talented vocalists backed by professional musicians Steve Rowley on guitar, Robert Viands on keyboards, Ron Esposito on drums and Max Farnbauch on bass.
Join us and step back in time to the heady days of Rock 'n Roll. You won't be disappointed!