Atlantic City Boys (Mizner Park Cultural Center- Boca Raton)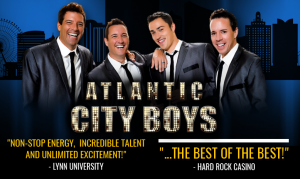 * Atlantic City Boys.
These guys are absolute- dynamite…
Superb leads and harmonies!
The Skinny:
Atlantic City Boys
Thursday, March 4, 2019 (7:30pm)
Mizner Park Cultural Center
201 Plaza Real
Boca Raton, Florida 33432
Box Office: (844)-672-2849
Tickets: ($35) miznerparkculturalcenter.com (check goldstar.com for discount tickets)
from miznerparkerculturalcenter.com
Non-stop energy, incredible talent and unlimited excitement!" -Lynn University
The Atlantic City Boys are four dynamic lead singers who have wowed audiences at Las Vegas, Walt Disney World, Atlantic City, as well as cruise ships around the world. Their show is an exciting mix of world-class vocals and interactive comedy, featuring the Rock 'N Roll harmonies of The Beach Boys, The Drifters, the Bee Gees, and of course, Frankie Valli and the Four Seasons. The boys have performed with many greats, from Jay Leno to Huey Lewis, Pattie Labelle and the Temptations! Don't miss your chance to see them perform live at the Mizner Park Cultural Center!