New Year's Eve at the Delray Beach Marriott- Starring The Motortown All-Stars (Delray Beach)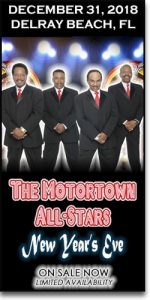 * New Year's Eve at the Delray Beach Marriott- Starring The Motortown All-Stars.
Just in case you guys were wondering where Jeff Eats and Mrs. Jeff Eats will be celebrating this coming New Year's Eve…
from poprockdoowopp.com
New Year's Eve 2018
Monday, December 31, 2018 at 9:00 PM
Delray Beach Marriott
10 N Ocean Blvd
Delray Beach FL 33483
Phone: (888) 718-4253
New Year's Eve at the Delray Marriott- Starring The Motortown All-Stars.
Mon. Dec 31, 2018 at 9:00pm EST
$159.00 – $179.00 21 and Over
Tickets/Reservations: poprockdoowopp.com
New Year's Eve at the Delray Beach Marriott- Starring The Motowner All-Stars
Join us on Delray Beach's enchanted Gold Coast for an unforgettable New Year's Eve of dining and dancing to the greatest hits of all time! For the 6th year in a row, the grand ballroom of the Delray Marriott comes alive in a New Year's Eve filled with old friends and new, award-winning cuisine and dancing to the soundtrack of our lives – the music of The Motortown All-Stars.
The Delray Beach Marriott is an exquisite 4-Diamond resort, conveniently located at the corner of A1A & Atlantic Avenue. Ticket prices include a gourmet dinner, champagne toast, broadcast from Times Square and more!
The tickets… are priced at the same reasonable price as when we started! $159 for Reserved Seating and $179 for Premium Reserved Seating (the first 2 rows of tables, front and center with an up-close view of the stage show). Ticket price includes live entertainment from The Motortown All-Stars throughout the evening, dinner, dessert, a champagne toast at midnight and a live broadcast from Times Square. We've even included self-parking, for which there is usually a charge.
Dinner and dessert… The Delray Beach Marriott has long been known for its delectable offerings at special events and, needless to say, New Year's Eve will feature some of the resort's finest. We are always pleased to offer a world-class buffet loaded with their finest. Each year's menu includes upgrades from the year prior, and last year's included Wedge Salad with Tomato, Bacon, Red Onion and Blue Cheese, a Classic Caesar Salad with Romaine Hearts, Ciabatta Croutons and Grana Padano, Cedar Plank Salmon with Grain Mustard Maple Glaze, Tuscan Roasted Chicken with Tomato Basil Relish and Pan Jus, Prime Rib (carved fresh) with Horseradish Cream and Au Jus, Garlic Whipped Potatoes, Roasted Asparagus and Hericot Verts. Last year we added a custom Pasta Station where Tortellini, Orecchiette and Gluten Free Penne were prepared with choice of Garlic Parmesan and Marinara, topped with your choice of Fresh Peas, Wild Mushrooms, Onion, Spinach, Squash, Zucchini, Sausage, Shrimp, Tomato, Parmesan, Crushed Pepper and of course, Extra Virgin Olive Oil. The Dessert Display featured Pecan Pie and Key Lime Pie Bars, Tiramisu, Dulche De Leche and Strawberry Shortcake as well as White Chocolate Raspberry and Duo Chocolate Verines. There will also be plenty of Seasonal Fruit for those who instate their New Year's resolutions early. Coffee and tea will be served at your tables and you'll enjoy a champagne toast at midnight with our compliments.
The Motortown All-Stars… The real deal! Every vocalist and musician you will see and hear is flying in from Detroit for this exciting event. Assembled from members of the Capitols, the Miracles and former members of the Temptations, this super-group of Hitsville stars will sing all your favorites live, just the way you remember them – "My Girl", "Ain't Too Proud to Beg", "Signed, Sealed, Delivered", "Get Ready" and those slow dances – "Ooh Baby, Baby", "The Tracks of My Tears" and "Just My Imagination."
Dancing… If you've got the stamina, the dance floor will be open all night! We do things the old-fashioned way – with live singers, live musicians and even live horns. Live drums provide the back beat, saxophones and trumpets blaring just like in the good old days. It'll be just the right volume and just the right groove for a discerning audience that knows what good music is.
Parking… is included! Your New Year's Eve ticket price also includes self-parking at no charge or discounted valet parking. (Please note that overnight hotel guests are subject to the regular overnight parking charges. We regret that complimentary and discounted parking is only for the duration of the event and is not available to those who are remaining on property after the event concludes.)
New Year's Eve at the Delray Marriott Starring The Motortown All-Stars
The Delray Beach Marriott… The Delray Marriott is a Mediterranean-style resort, conveniently located at the corner of trendy Atlantic Avenue and coastal A1A, yet just minutes from I-95. Steeped in an old world elegance that is truly unique to the Delray area, the Delray Beach Marriott occupies an enviable position overlooking the sandy beaches on Ocean Boulevard. This luxury hotel is just a short walk from the upscale boutiques, bistros, galleries and nightlife of Atlantic Avenue. What a place to spend New Year's Eve! op here
Dress code semi-formal, black tie optional. (Jackets and collared shirts preferred for gentlemen. No jeans, shorts, sandals or athletic wear.) The dress code will be strictly enforced, without exception. The event begins at 9:00 PM, but you may arrive up to 30 minutes earlier to check-in.
PLEASE PURCHASE WITH CONFIDENCE, BUT NOTE THAT THERE ARE NO REFUNDS. WE REGRET THAT WE ARE NOT ABLE TO OFFER ANY REFUNDS OF TICKET PURCHASES TO THIS EVENT.
In the checkout process (Tickets/Reservations: poprockdoowopp.com) you will have the option to add the names of other individuals who may be arriving separately or place all tickets in your name.
Delray Beach Marriott
10 N Ocean Blvd
Delray Beach, FL 33483