Old Jews Telling Jokes (Mizner Park Cultural Center- Boca Raton)
First told you guys about Old Jews Telling Jokes on 8/11/18. Just checked the Mizner Park Cultural Center's box-office and there are a handful of real-good seats left for the shows' January-February run. Trust Jeff Eats on this one, I've seen the show and it's absolutely hilarious! Don't miss this one!
Posted on August 11th, 2018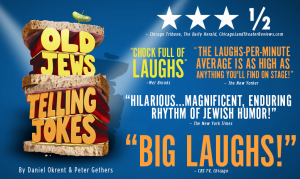 * Old Jews Telling Jokes.
Absolutely hilariousv show!
Tickets just went on sale.
—————————
The Skinny:
Old Jews Telling Jokes
Jan 09, 2019 through Feb 10, 2019 Limited Engagement
Performances:
Wednesday 7:30pm
Thursday 3pm & 7:30pm
Friday 7:30pm
Saturday 3pm & 7:30pm
Sunday 3pm
Mizner Park Cultural Center
201 Plaza Real
Boca Raton, Florida 33432
Box Office: (844)-672-2849
Tickets: ($45-$65) miznerparkculturalcenter.com (check goldstar.com for discount tickets)
Get ready for an outrageous evening of one-liners, double-entendres, songs, skits and hysterical routines sure to triple you over with laughter!
Created by Peter Gethers and Daniel Okrent, OLD JEWS TELLING JOKES showcases five actors in a comedy that pays tribute to and reinvents classic jokes of the past and present.
Like rye bread, Kosher pickles and bagels, this show is for everyone! You'll laugh till you plotz.
Warning: Adult (Bawdy) Humor! Must Be 18+