Comedian- Judy Gold (Boca Black Box- Boca Raton)
* Comedian- Judy Gold.
Just picked-up 2 tickets.
One of the funniest "clean" working comedians in the business!
If you have never seen Judy Gold- go see her, you will absolutely love her!
The bet here, both of Gold's (7pm & 9pm) shows will be SRO- so do what you gotta do…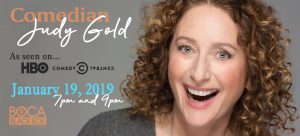 The Skinny:
Comedian- Judy Gold
Saturday, January 19, 2019 (7pm & 9pm)
Boca Black Box
8221 Glades Road Suite #10,
Boca Raton, Florida 33434
Box Office: 483.9036
Tickets: bocablackbox.com check goldstar.com for discount tickets
from bocablackbox.com

Judy has had stand-up specials on HBO, Comedy Central and LOGO. She has
written and starred in two critically acclaimed, Off-Broadway hit shows: The Judy
Show – My Life as a Sitcom (Outer Critics Circle Nomination), and 25 Questions
for a Jewish Mother (GLAAD Media Award – Outstanding NY Theater, Drama
Desk Nomination – Actor).
Judy received rave reviews as Gremio in The Public Theater's all female
production of The Taming of The Shrew for Shakespeare in the Park. She also
co-starred in Off-Broadway's Clinton! The Musical, and Disasater! The Musical.
Judy appears the new season of Murphy Brown, and is a regular on Comedy
Central's new series This Week At The Comedy Cellar and has appeared on The
Late Show with Stephen Colbert. Judy has recurring roles on Netflix's Friends
From College and TBS' Search Party and she can be seen on the Showtime
series I'm Dying Up Here. Judy was featured in Woody Allen's series Crisis In Six
Scenes on Amazon, and also appears on the hit web-series The Other F Word
on Amazon Prime. Other most recent TV appearances include guest-starring
roles on Broad City, Louie, The Unbreakable Kimmy Schmidt, The Jim Gaffigan
Show, Inside Amy Schumer, Difficult People, 30 Rock, and 2 Broke Girls. From
1999-2010, Judy was the host of HBO's At The Multiplex With Judy Gold. Judy
also won two Emmy awards for writing and producing The Rosie O'Donnell
Show.
Judy has made numerous appearances on The Wendy Williams, The View, The
Today Show, and The Steve Harvey Show. She has written for The New York
Times, Huffington Post, CNN.com. She is the host of the hit podcast, Kill Me
Now, on iTunes. You can find her at JudyGold.com or follow her on twitter &
Instagram – @jewdygold.
Judy's new album, Kill Me Now, comes out this fall.