Sal "The Voice" Valentinetti Holiday Concert (Boca Black Box- Boca Raton)
First told you guys about Sal "The Voice" Valentinetti Holiday Concert on 9/12/18. Just checked bocablackbox.com and goldstar.com (discount tickets) and there is only a handful of tickets left for Sal's Friday, 12/14/18 and Sunday, 12/16/18 Boca Black Box shows. I already got 2 tickets for the Sunday show. I'm kinda thinking that both shows are gonna be SRO- so if you wanna go and don't yet have tickets, time to make your move in the ticket arena!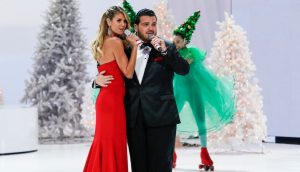 Posted on September 12th, 2018
* Sal "The Voice" Valentinetti Holiday Concert.
You- guys remember this guy Sal- from Season 11 of America's Got Talent?
Well- Jeff Eats and Mrs. Jeff Eats do and we're really looking forward to seeing his live show!
Just announced…
* Sal "The Voice" Valentinetti Holiday Concert
Friday, December 14th, 2018 (8pm)
Sunday, December 16th, 2018 (8pm)
Boca Black Box
8221 Glades Road Suite #10,
Boca Raton, Florida 33434
Box Office: 483.9036
Tickets: bocablackbox.com check goldstar.com for discount tickets
from bocablackbox.com
Sal has a new New Christmas Album that will be released soon. Sal's Debut EP "The Voice" is # 2 on Billboard Top Jazz Album Chart. Sal first learned the American standards at his grandmother's knee and his passion grew further when he discovered his hidden vocal talent in his teenage years. "Sal the Voice," as he is known by everyone form Brooklyn to Bayshore, can be found on most Sundays sipping cappuccino at the cafe, telling stories, making jokes and planning his next move— to bring back to American pop culture the consummate, classy, old-school entertainer with a heart of gold. When his grandmother passed away, her music was all Sal had to remember her by. He had previously tried out for season 14 of American Idol, where he successfully made it past the auditions but did not proceed to the live shows. On season 11 of America's Got Talent Sal wowed the judges and won Heidi Klum's golden buzzer. He then made it past the Semi-Finals and competed in the Final Show. Sal breathes fresh air into the classics; "The Way You Look Tonight", "My Way", "Summer Wind", "The Girl From Impana", "Mack The Knife", "That's Life", "Love Is A Many Splendored Thing". Sal will entertain you like you have never been entertained before.