DISH OF THE WEEK (Sunday-12/2/18- Bagel Hut- Pompano Beach)
***** DISH OF THE WEEK (Sunday-12/2/18-Bagel Hut).
One of Jeff Eats' favorite menu items…
CRUNCHY FRENCH TOAST WITH MIXED BERRIES
$7.99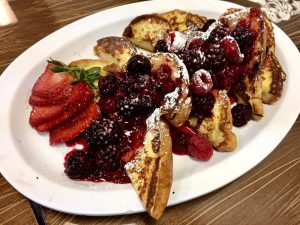 Bagel Hut
4877 Coconut Creek Parkway
Pompano Beach
(954) 975-3442.
bagelhut.co
Latest Review: 4/9/11
Over the past 7 1/2 years I've probably eaten in the Bagel Hut something like 20 times- and I gotta tell you, I can't recall- even one bad outing…trust Jeff Eats on this one, if you're into bagel-deli joints-(and who isn't?-except for my old Ithaca College friend Lenny Drucker from Utica, New York) you'll enjoy this joint!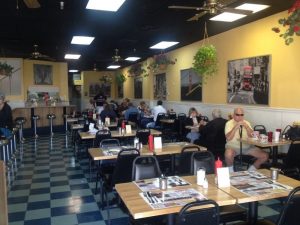 Posted on April 9th, 2011 ·
***** Bagel Hut, 4877 Coconut Creek Parkway, Pompano Beach, Florida 33063, (954) 975-3442.
Bagel Hut is a "bagel-deli"…located in Pompano Beach.
Recently did breakfast…delicious "everything" and western omelette.
Think-typcial bagel joint and you'll know what Bagel Hut is all about… 4,000,000 types of bagels, all kinds of breakfast stuff, deli sandwiches, burgers, soups, salads.
If you live or work in Bagel Hut's neighborhood—you can't go wrong here.
Bagel Hut is open Monday-Friday 7am-3pm, Saturday 7am-2:30pm, Sunday 7am-2am.