Almond Crispie Cookies- 12 Count (The Fresh Market- Boca Raton)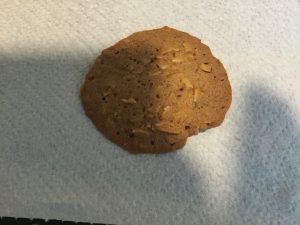 ***** Almond Crispie Cookies- 12 Count.
Many-many moons ago, Jeff Eats fell in love with the Almond Cookies that- the Chinese Restaurants in Brooklyn served-up for dessert. No lie- I've been an Almond Cookies' fan seemingly forever!
Long story short…
Yesterday morning, I discovered -Almond Crispie Cookies- 12 Count at The Fresh Market, 5540 North Military Trail, Boca Raton , Florida 33496- and I gotta tell you guys,that although they're a variation on a theme (very thin and very crispy) these cookies are absolute dynamite delicious!
A box of 12 freshly baked- Almond Crispie Cookies is gonna set you back $4.49, unless you get real lucky like I did- with a sale price of $3.49!
Trust me on this one, these cookies with a nice cup of hot black coffee- absolute;y kills!
You can check thefreshmarket.com for store locations/product info.