A Tribute To The Rat Pack- Starring- William Cintron, Dezhon Fields and Ray Livosi (Mizner Park Cultural Center- Boca Raton)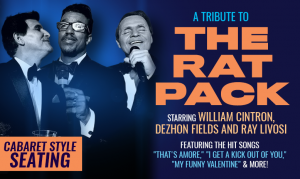 * A Tribute To The Rat Pack- Starring- William Cintron, Dezhon Fields and Ray Livosi.
All I can tell you guys- I've seen the show and Cintron, Fields and Livosi do a top-notch job respectively- impersonating Dean Martin, Sammy Davis Jr. and Frank Sinatra!
Just between Jeff Eats and you guys, one of the tribute artists (not gonna- say which one) is so good- that if you close your eyes while he's singing- you'll swear that the "real" legend is on the stage! Like I just said, not gonna say which one – My my!
The Skinny:
A Tribute To The Rat Pack- Starring- William Cintron, Dezhon Fields and Ray Livosi
Saturday, January 12, 2019 (7:30pm)
Mizner Park Cultural Center
201 Plaza Real
Boca Raton, Florida 33432
Box Office: (844)-672-2849
Tickets: miznerparkculturalcenter.com
from miznerparkculturalcenter.com
A Tribute To The Rat Pack- Starring- William Cintron, Dezhon Fields and Ray Livosi
Prepare to experience the best The Rat Pack tribute show you've ever seen, A TRIBUTE TO THE RAT PACK, starring William Cintron Dezhon Fields and Ray Livosi – and featuring the hit songs "That's Amore," "I Get A Kick Out of You," "My Funny Valentine" and more!
Ray Livosi as Frank Sinatra
"It's unbelievable, I thought I was listening to Frank himself." -Howie Richmond
You will feel "Frank" in the house when Ray Livosi performs his incredible tribute, recreating the voice, mannerisms and big band sounds of Frank Sinatra. Livosi channels Ol' Blue Eyes at his peak by incorporating songs from Sinatra's legendary performance at Madison Square Garden.
Acclaimed for his act(s) in Las Vegas and Atlantic City, Livosi offers fans the chance to see "The Chairman of the Board" perform timeless classic such as "Fly Me to the Moon," "That's Life," "My Way," and "New York, New York."
Howie Richmond, who published "Fly Me to the Moon," said of Livosi, "It's unbelievable, I thought I was listening to Frank himself."
Dezhon Fields as Sammy Davis Jr.
"Fields is a dead-ringer for Sammy Davis, and when he hits those high notes in 'What Kind of Fool Am I', you'd swear the famous song and dance man was back." -The Windsor Star
Dezhon Fields is an accomplished singer, actor and dancer with more than 18 years of entertainment experience. Dezhon began singing and dancing in school and church at the age of 10. He has since gone on to perform in theatre productions worldwide, beginning with a Tony Award-winning play called CINDERELLA BROWN, where he was a principle dancer in Long Beach, CA. Dezhon is a former ballroom/salsa instructor and trained for several years under the instruction of the National Ballroom/Salsa Champion, Sonya Cortes, in Los Angeles, California.
Having been told he looked like Sammy Davis Jr. most of his life, Dezhon decided to research the great entertainer. After reading the book "Why Not Me" in 2002, Dezhon realized that he identified with Sammy Davis' style, as well as his passion for entertainment and outlook on life; this is what inspired Dezhon's passion, and like Sammy, he has danced, sang, and acted his way into people's hearts.
Dezhon has performed in Las Vegas where he is a member of "Legends in Concert" and has performed throughout the United States, Canada and Ireland. In 2012 and 2013, Dezhon completed a double run at the WestCoast Black Theatre Troupe in Sarasota, FL, starring in the production, SAMMY TONIGHT, a show he wrote and co-produced with Nate Jacobs. As he performed to sold out audiences, one critic said, "Dazzling with talent and bedazzled with Davis' signature diamonds, Fields casts a magnificent glow as star of the show."
In April 2016, Dezhon received a gracious invitation from Producers, Judi Mark and Mercedes Ellington (Granddaughter of Duke Ellington), to perform in a production called "TRIPLE THREATS" a Tribute to Duke Ellington, Ella Fitzgerald and Tito Puente, which was performed at the Friars Club in Manhattan, NY. And, in April 2018, Dezhon worked with Broadway & Off-Broadway Producer/Director, Herman LeVern Jones, adapting a sound score for the play, A CLASS ACT, also performing all vocals throughout the production.
William Cintron as Dean Martin
William Cintron is best known for impersonating the superb vocals of Frankie Valli, Dean Martin, Englebert Humperdinck, and The Stylistics.
Cintron originally hails from Brooklyn, NY, and has performed throughout New York City, and Florida (currently performing throughout Central Florida, South Florida, and Southwest Florida). He went on to perform at the Apollo Theatre, winning Amateur Night first place three times. He has performed with bands such as Legend, Sweet Touch, Rhapsody, and Bodacious. William now has his own Frankie Valli Tribute Band called "Sounds of the Seasons" for that authentic Frankie Valli and The Four Seasons sound.
Cintron has also performed and shared the same stage with The Platters, The Temptations, The Delfonics, Chubby Tavares of The Tavares, Larry Chance and the Earls, The New Supremes, The Marcels, The Diamonds, The Coasters, The Drifters, The Mystics, J.T. Carter of The Crests, Eddie Holman, Peter Lemongello, Jimmy Gallagher of The Passions, The Main Ingredient featuring Cuba Gooding Sr., and Ken Brady and The Casinos.
Past performances include The World Famous Apollo Theatre, The Four Century Villages of South Florida, The Villages of Lady Lake, Disney's Contemporary Resort and Epcot Center, and Universal Studios City Jazz and Motown Cafe.
Cintron sings all the greats such as Al Jolson, Frank Sinatra, Dean Martin, Tony Bennett, Englebert Humperdinck, Tom Jones, and even Elvis. From Frankie Valli, The Platters, Temptations, to The Stylistics and Smokey Robinson, he can hit just about any range.