Free Tickets To See Comedian Tony Rock (Palm Beach Improv- West Palm Beach)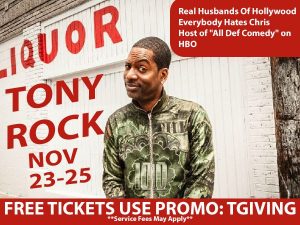 * Free Tickets To See Comedian Tony Rock.
Now- you guys and Jeff Eats both know that if the Palm Beach Improv could get $20-$35 a ticket plus a 2 drink minimum it would- for Rock's Thanksgiving Day Weekend- shows, but obviously it can't, so it will settle for just the 2 drink minimum…
In any event, Tony Rock is a real funny guy and puts on a great show…
The Skinny:
Comedian Tony Rock
Palm Beach Improv
550 Rosemary Avenue
West Palm Beach, Florida 33410
Friday, 11/23/18- 7:30pm
Saturday, 11/24/18- 7pm & 9:30pm
Sunday, 11/25/18- 7pm
Box Office/Info: (561) 833-1812
Free Tickets Online: palmbeachimprov.com (use code: TGIVING)
from palmbeachimprov.com
Tony Rock:
Born in the same Brooklyn, NY hospital where most of his seven brothers and one sister found their way into the world, Tony Rock was born laughing. He grew up in one of the toughest neighborhoods in New York and developed a natural knack for entertaining.
"On a daily basis I'd see a dozen characters (and I emphasize the word characters). One moment, I'd be fighting for my life. The next minute I'd be laughing hysterically. There's a lot of drama in the city and I took it all in."
Tony has been performing for years and he has gained a reputation as a young star in the making. The Hollywood Reporter recently picked him as one of the hot young talents to come out of New York.
Tony just finished shooting the film "Three Can Play That Game" with Vivica Fox in Atlanta and recently wrapped his fourth season of "All of Us" on the CW, playing the role of Dirk Black. He starred in the films "Life Support" with Queen Latifah, and "Homie Spumoni" with Whoopi Goldberg and Joey Fatone. He is currently featured on the TV screen as the host of TV One's "The Funny Spot".
Tony's stand-up comedy talents were showcased in the recent revival of "Def Comedy Jam" on HBO. He was previously the host of "Can You Tell?" on Oxygen, and a feature reporter on "Battlebots". He's also been featured on Howard Stern, Extra, and Craig Kilborn. Tony can be seen headlining comedy clubs across the country, including Caroline's, the Apollo, the Laugh Factory, and the Comedy Store.