DISH OF THE WEEK (Sunday- 11/18/18- Buon Appetito Cafe- Fort Myers)
***** DISH OF THE WEEK (Sunday- 11/18/18- Buon Appetito Cafe).
One of Jeff Eats' favorite menu items…
CHICKEN PESTO RAVIOLI
$15.00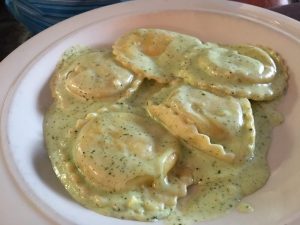 Buon Appetito Cafe
6314 Corporate Court
FortMyers
(239) 433-0117
restaurantftmyers.com/
Latest Review: 8/7/12
First told you guys about Buon Appetito Cafe way-back on 8/12/12. All I can tell you, if this joint was in our Boca Raton neighborhood, Jeff Eats and Mrs. Jeff Eats would be real steady customers. Over the years Buon Appetito Cafe has seen our American Express Card something like 6- times and each and every outing was right on the money!
Buon Appetito Cafe is open Monday-Friday 11am-9pm/Saturday 3pm-9pm/closed Sunday.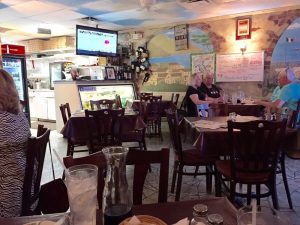 Posted on August 7th, 2012
***** Buon Appetito Cafe, 6314 Corporate Court, Fort Myers, Florida 33919, (239) 433-0117.
Last week Jeff Eats and Mrs. Jeff Eats were visting some friends in Fort Myers-and they took us to dinner at Buon Apetito Cafe…a small, mom & pop, red sauce Italian joint. AND we are really glad that they did. First of all, my buddy picked-up the check and secondly all four of us had a terrific meal.
When you check Buon Appetito Cafe's website www.buonappetitocafe.com you will find menu/prices/tons of photos and a video.
Buon Appetito is a "rarity" in that it does Breakfast-Lunch-Dinner…When was the last time you saw an Italian joint do-breakfast? Buon Appetito is open Monday-Saturday 9am-9pm, closed on Sunday.
Let's talk food…large plain pizza ( 16″ -$12)–veal parmigiana ($15)–grouper piccata ($16)–sausage & peppers ($13), penne ala vodka ($13), chocolate cannolli ($2.50). First things first, Buon's menu isn't exactly huge, but no question in my mind, everybody in your party is gonna find something real good to eat. The pizza was absolutely delicious. It "looked" like it was coal fired but it wasn't. It was made on a pizza stone, was well done/thin crusted/crisp/sweet sauce—one of the best pizzas I've had in a very long time. The veal parm was real good and only a fork was needed to cut it. The grouper piccata and the sausage & peppers were good but not in the veal or pizza's league. The penne ala vodka was delicious up there with best of breed. The entrees came with a house salad, a pasta marinara or choice of vegetable… The salad was good and the spaghetti marinara side was really-good. The joint serves a delicious home-made ciabatta and it was perfect for sopping up the penne ala vodka sauce. As for the chocolate cannolli, Jeff Eats never met a chocolate cannolli that he didn't like…suffice it so say, I loved this home-made one.
If I have my facts straight here, the joint has two owners…Alex Cervasio and Gabe Ermmarino. From what Jeff Eats could tell, they greet every customer coming through the front door and make it their business to stop by every table during the meal. Just so we are on the same page here, this isn't a gourmet fancy schmantzy joint. It's small and your tee shirt/shorts/flip flops ensemble will do well here. Nothing for nothing, but when Jeff Eats was there, it seemed like the owners "knew" everybody in the joint. Now, Jeff Eats and Mrs. Jeff Eats "knew" that we had never been there before—the friendliness and easy-goingness of the owners and staff makes for a real-pleasant time.
Like I said before, Jeff Eats did "dinner." A review of the breakfast menu finds breakfast sandwiches and omelets—interesting no bagels! The lunch menu is loaded with pizzas, subs, wraps and salads.
If I got one bitch with Buon Appetito Cafe it's that it isn't by- my house…kinda a big schlepp to Fort Myers from Boca.
To -all of you folks who live or work in Buon Appetito Cafe's neighborhood…this joint is a winner…and I'm jealous!