COMEDIAN MIKE MARINO…MAKE AMERICA ITALIAN AGAIN: FEATURING VINNIE CECERE (Boca Black Box- Boca Raton)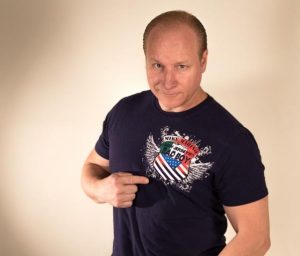 * COMEDIAN MIKE MARINO…MAKE AMERICA ITALIAN AGAIN: FEATURING VINNIE CECERE.
One of America's funniest clean-national touring headlining comedians- Mike Marino is set to play the Boca Black Box in Boca Raton on Friday Night, November 16th, 2018 (8pm) and Saturday Night, November 17th, 2018 (8pm).
Trust Jeff Eats, Marino will have you rolling on the floor laughing like crazy!
The Skinny:
COMEDIAN MIKE MARINO…MAKE AMERICA ITALIAN AGAIN: FEATURING VINNIE CECERE
Friday Night, November 16, 2018 (8pm) & Saturday Night, November 17, 2018 (8pm)
Boca Black Box
8221 Glades Road #10
Boca Raton, Florida 33434
Box Office: 561.483.9036
Tickets: bocablackbox.com goldstar.com (discount tickets)
from bocablackbox.com
Back By Popular Demand!
Mike Marino, affectionately known to millions of his fans worldwide as New Jerseys Bad Boy is one of the most loved comedians of our time. He has performed in every major comedy club, theatre, casino and event center from New York to Los Angeles and around the world. Mike has also shared the stage with some of the biggest names in the business.
Mike Marino was born in Jersey City, New Jersey. He entered the entertainment industry at an early age and has studied at some of the most prestigious acting schools in New York, the Herbert Berghof Studio and the American Academy of Dramatic Arts. Mike has appeared in over 200 national television commercials, including many endorsements and has received a Best Actor Clio Award Nomination. He has acted in many Prime Time soaps and television shows including: As the World Turns, One Life to Live, Becker, Nikki, Frasier and Party of Five. His film credits include Crooks, Pizza with Bullets, Hangin in Hedo and Steven Kings Lucky Quarter and Criticsized.
Mike Marino has a tongue like a razor and a heart of gold. He has the incredible ability to perform in any arena, big or small, and can cater his material for all audiences, from strictly clean to down and dirty. He has performed in hundreds of corporate functions for companies including AT&T, United Airlines, American Express, Paul Mitchell, IBM, Wella, Merrill Lynch, Sebastian Intl., Toyota, L.A.S.D., N.J. Asphalt Assoc., The City of Hope, OSIA, and the LAPD. Mike Has performed for numerous charities including Aids Project, LA, Haven House, Team earthworks, and the Eric Davis Cancer Fund. When Marino is not performing, he enjoys traveling and spending time with his family on the East Coast. Catch him at the Boca Black Box this November!