The WannaBeatles (Mizner Park Cultural Center- Boca Raton)
This column first appeared on 6/7/18. You guys and Jeff Eats both know that there are more Beatles' tribute bands than there are Chins in a Chinese phonebook! That said, The WannaBeatles break the expected-mold and I am telling you that these guys are an absolute must see act…The bet here is that their Saturday-11/10/18 date at the Mizner Park Cultural Center is gonna be a SRO affair- so if you wanna see one of the most entertaining Beatles' tribute bands currently working America's club/casino/festival circuit – it's time to make your move on the ticket front!
Tickets: miznerparkculturalcenter.com also check goldstar.com (discount tickets).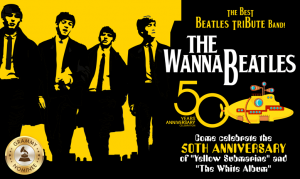 Posted on June 7th, 2018
* The WannaBeatles.
Let me ask you guys something…
1. Which Beatles' tribute band has been nominated for a Grammy Award (2012)?
2. Which Beatles' tribute band has made an appearance on a network tv program?
3. Which Beatles' tribute band has a member who has won 2 Grammy Awards and 1 Emmy Award?
4. Which Beatles' tribute band has a member who is a former member of the legendary Rock N Roll band- Sha Na Na?
5. Which Beatles' tribute band has a member who as a member of Billy Vera and the Beaters played on the #1 1981 single 'At This Moment'?
The answer to all 5 questions- The WannaBeatles!
Jeff Eats and Mrs. Jeff Eats have seen the Nashville based- WannaBeatles and not one of the band members wore a Beatles' wig or spoke with a fake British accent…What you get- are four extremely-talented musicians in a fast paced extremely entertaining interactive show- recreating The Beatles' hits exactly as The Fab Four recorded them!
Trust Jeff Eats when I tell you that- The WannaBeatles are an absolute must see act!
Just announced…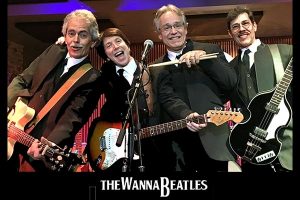 The WannaBeatles
Saturday- November 10 @ 7:30 pm
Mizner Park Cultural Center
201 Plaza Real
Boca Raton, Florida 33432
Box Office: (844)-672-2849
Tickets: miznerparkculturalcenter.com
from miznerparkculturalcenter.com
Get ready for a different kind of Beatles experience that combines great Beatles classics with hilarious on stage antics, audience involvement and award winning entertainment – with the Grammy-nominated THE WANNABEATLES…the best Beatles tribute band!
"You all are so good that I had people around me asking if you were playing, or if it was recorded…You guys are FANTASTIC!" -Discovery Park of America
"I can honestly say I've never enjoyed a live, musical entertainment event more!" -Alhambra Theatre
"…Much more than just a concert! The most memorable event I've ever attended here!" -The Renaissance Center