A Tribute To Diana Ross & The Supremes With Special Guest Whitney Houston (Mizner Park Cultural Arts Center- Boca Raton)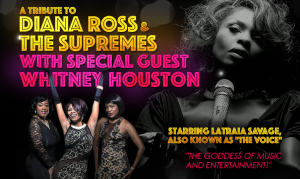 * A Tribute To Diana Ross & The Supremes With Special Guest Whitney Houston.
Just picked-up 2 tickets.
Check LaTraia Savage out!
The Skinny:
A Tribute To Diana Ross & The Supremes With Special Guest Whitney Houston
Friday- November 9th, 2018 @ 7:30 pm
Mizner Park Cultural Center
201 Plaza Real
Boca Raton, Florida 33432
Box Office: (844)-672-2849
Tickets: miznerparkculturalcenter.com
from miznerparkculturalcenter.com
LaTraia Savage as Diana Ross & Whitney Houston
EXPLOSIVE, ALLURING, ELECTRIFYING, SULTRY and SASSY are all words used to describe LaTraia Savage, "Tampa Bay's Diva of the music and entertainment biz!"
LaTraia Savage is a vocalist well-known for covering a wide variety of genres, including Jazz, R&B, Country, Big Band, Dance, Motown and more. She has opened shows for several national acts including Alicia Keys, Chris Brown, The S.O.S. Band, Frankie Beverly & Maze, Brian Culbertson and others. And currently, she's touring with the legend, Glenn Leonard (former lead singer of The Temptations), Bertie Higgins (songwriter and producer of Key Largo) and R&B heart-throb Christopher Williams.
LaTraia is well-versed in theater, and has graced the stage of Busch Gardens theme park in the theatrical play KATONGA for one-and-a-half years. LaTraia (also known as 'THE VOICE") did a two-year stint acting and singing in the Off-Broadway play, THE ME NOBODY KNOWS. During that time, she also performed in two Sprite commercials. For three years, she burned the roof off of the dining Yacht StarShip cruise, nightly, with her band.
Currently, she is spreading her fire from Florida to Texas with her DIVAS OF SOUL Impersonation/Tribute show. She performs hits from Tina Turner, Whitney Houston, Donna Summer, Beyonce, Diana Ross and several others. LaTraia has also headlined tours entertaining USA Military Troops in several venues in Europe, including Portugal, Italy, Spain, Rome, and Sicily, to name a few. Her most recent international tour landed her in China, where she's due to return at the end of the year.
"The goddess of music and entertainment" was the featured artist in the February 2012 issue of Mayhem Magazine. In 2009, she sang the National Anthem at a New York Yankees game. She also recently (2014) performed this legendary tradition for the Rowdies Soccer game. Let's not forget about her charity appearances, which include singing the National Anthem to kick off annual Breast Cancer Walk-a-thons and is currently working on a fundraiser event for Tay-Sachs disease.