An Evening of Comedy & Song (Boca Black Box- Boca Raton)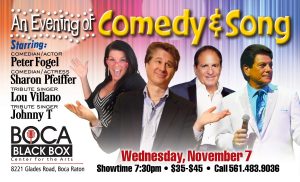 * An Evening of Comedy & Song.
Tickets just went on sale…
Trust Jeff Eats on this one- a lineup of- National Headline Touring Comedian Peter Fogel, Comedian Sharon Pfeiffer, Tribute Singer Lou Villano and Tribute Singer Johnny T absolutely kills! I've seen them all in action and like I just said, the lineup absolutely kills! Don't miss this one!
Jeff Eats just picked up 2 tickets.
The Skinny:
An Evening of Comedy & Song
Wednesday, November 7th, 2018 (7:30pm)
Boca Black Box Center
8221 Glades Road Suite #10,
Boca Raton, Florida 33434
Box Office: 561.483.9036
Tickets: bocablackbox.com check goldstar.com for discount tickets
from bocablackbox.com.
Vegas comes to Boca!
4 great performers – ONE BIG SHOW – ONE NIGHT ONLY! Comedians Sharon Pheiffer, Peter Fogel, Tribute Artists Lou Villano & Johnny T.
This is a Night of Entertainment you don't want to miss out on.
LAS VEGAS performers are giving a ONE-NIGHT STAND.
PETER FOGEL
Peter J. Fogel is one of America's funniest comedians that you've never heard of… but have seen countless times on television. From comedy clubs, to cruise ships and Las Vegas theaters, he's opened for such stars as Rita Rudner, Jimmy "J.J" Walker and Robert Wuhl (HBO's Arliss).
He's shared the stage or has worked with Jason Bateman, Ed Asner, Shirley Jones, Robin Williams, Harry Anderson, Ray Romano, and Jon Stewart. Peter's also written for such stars as Academy Award nominee Chazz Palminteri (A Bronx Tale, Bullets Over Broadway.)
LOU VILLANO
Lou Villano grew up in Brooklyn singing the songs of some of the most popular singers from the 50's & 60's – Paul Anka was one of his favorites. While Lou was arranging his shows he remembered how many of his audiences would comment that his resemblance and vocal styling is very similar to Paul Anka. They asked "Why don't you do more songs by Paul Anka"? That's when Lou acted upon their advice. Lou becomes Paul Anka performing his hits – Diana, Lonely Boy, The Longest Day, My Hometown, Puppy Love, Destiny and so much more. Within the show are songs Paul Anka wrote for singers like Buddy Holly, Frank Sinatra, Tom Jones plus hit songs from some of his fellow songwriters and friends Frankie Avalon & Bobby Rydell. Lou is receiving rave reviews and standing ovations from his audiences performing this show. It's a show that you are going to remember as you walk out singing the songs that you loved so much by such a talented songwriter and singer.
JOHNNY T
Johnny T was named the Best Tribute Singer by Billboard Magazine.
His Tribute to Frankie Vali, Frank & Dean, & Neil Diamond and many other
sound like you are hearing the original artist.
SHARON PFEIFFER
"Rated The Best New Comic Sharon Pfeiffer
Sharon turns her real life experience into comedy
Her Jewish style delivery will have you busting"