Win 2 Tickets- One Night In Memphis (Coral Springs Center For the Arts- Coral Springs)
This contest started on 10/11/16. This contest has a winner.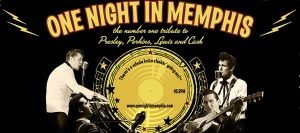 * Win 2 Tickets- One Night In Memphis.
Jeff Eats got 2 tickets to give to one of you guys- to see One Night In Memphis at the Coral Springs Center For The Arts, 2855 Coral Springs Drive, Coral Springs, Florida 33065, (954)344-5990 on Friday, March 16th, 2019 at 8pm.
The game- the first 25 "reader-comments" received – will be entered in a "blind hat pick"! You can submit as many comments as you'd like but- Please, only 1- reader comment – per day…play fair!
________
Posted On October 10th, 2018
* One Night In Memphis.
Tickets just went on sale…
Jeff Eats and Mrs. Jeff Eats are going…
The Skinny…
Saturday, March 16, 2019 at 8:00 pm
Coral Springs Center For The Arts
2855 Coral Springs Drive
Coral Springs, Florida 33065
Box Office: (954) 344-5990
Tickets: thecentercs.com
from thecentercs.com
Tribute to Presley, Perkins, Lewis, and Cash. One Night in Memphis® is a rocking concert tribute to legendary Sun Records recording artists Carl Perkins, Johnny Cash, Jerry Lee Lewis, and Elvis Presley. Over 90 minutes of rockabilly, country, gospel, and pure 1950's rock and roll music performed live and backed by an authentic and energetic rockabilly backup band. Be a witness to a rock and roll royalty jam session with the music and talent that has stood the test of time. True American music featuring the hits, "Blue Suede Shoes", "Folsom Prison Blues", "Great Balls of Fire'< "Whole Lotta Shaking Going On", "Shake, Rattle, and Roll," "Hound Dog", and many, many more with acclaimed national talent, all performed live without tracks and guaranteed to get any audience rocking and rolling!