Luv Me Tenders (Magic City Casino- Miami)
* Luv Me Tenders.
Jeff Eats just picked-up 2 tickets ($36.08 per ticket)…
I'm kinda thinking that the combination of an all-you-can-eat "Chicken Tender" situation and a concert starring Rock N Roll legends- Survivor and The Guess Who adds up to being a real-good time!
If you're thinking like I'm thinking- you can catch tickets at burgerbeast.com.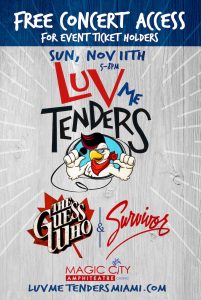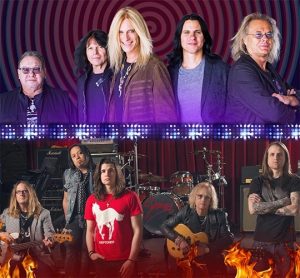 from burgerbeast.com
Luv Me Tenders
Sunday, November 11th, 2018 (5pm-8pm)
Magic City Casino
450 NW 37th Avenue
Miami, FL 33125
Info: 305-649-3000
Tickets/Info: burgerbeast.com
Everyone loves Chicken Tenders, and that includes Burger Beast which is why he thought it was about time we throw together an event that features the best in boneless chicken, Luv Me Tenders!
But wait there's more……each ticket to Luv Me Tenders will include a Level 1 all-access ticket (general admission) to the concert by The Guess Who and Survivor the Band that night.
It all goes down on Sunday, November 11th from 5-8PM outdoors by the track at Magic City Casino.
All ages event.
Adult ticket and Adult & Children ticket package available.
Children age 2 or younger free.
No refunds.
Chicken Contenders:
TheCafe72
Caporal Chicken
Chefs on the Run Assorted Cuisine
Crackers Casual Dining
Gilbert's 17th Street Grill
John Martin's Irish Pub & Restaurant
Latin House Grill
Mojo Donuts Miami
PDQ
Pollo Campero
Pollo Tropical
The Rolling Stove
The Waffle Wagon
Desserts & Snacks:
The Creamy Creations by AM
Chifles Chips
Mac & Chess
Miami Roasted Corn
Tio Colo