Comedian- Julia Scotti (Boca Black Box- Boca Raton)
This article first appeared on 8/2/18. Just a heads-up, since her appearance on tv's AGT- Julia Scotti has become one of the hottest comedians working America's comedy club/casino circuit. There is no doubt in my mind that Scotti's 10/12 & 10/13 shows at the Boca Black Box are gonna be SRO!. So if you wanna go, now is the time to pickup tickets- bocablackbox.com and goldstar.com (discount tickets). By the way, every seat at the Boca Black Box works…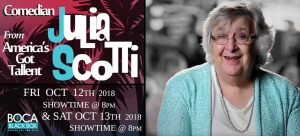 Posted on August 2nd, 2018
* Comedian- Julia Scotti.
Just announced…
Julia Scotti
Friday, October 12th, 2018 (8pm)
Saturday, October 13th, 2018 (8pm)
Boca Black Box
8221 Glades Road Suite #10,
Boca Raton, Florida 33434
Box Office: 483.9036
Tickets: bocablackbox.com check goldstar.com for discount tickets
———
Jeff Eats and Mrs. Jeff Eats have seen Julia Scotti's standup act twice- and trust me, funnnnny!
Don't miss her.
By the way, the bet here- is SRO for both shows- so do what you gotta do on the ticket front!
from bocablackbox.com
Julia Scotti is a nationally headlining comedian, former teacher, author, speaker, and woman of transgender experience. She was a quarter-finalist and fan favorite on season 11 of America's Got Talent on NBC in 2016.
Her new brand of comedy is fierce, honest, and fearless. She has been described as a "force of nature", "a cross between Sam Kinison and Mrs. Doubtfire", and like a "chainsaw flying through the room"
People of ALL ages and ALL persuasions just can't get enough of this 'Crazy Old Lady of comedy.' Her current CD Hello Boys…I'm Back! is still hot and climbing.