DISH OF THE WEEK (Sunday-10/7/18- Waffle House- Davie)
***** DISH OF THE WEEK (Sunday-10/7/18- Waffle House).
One of Jeff Eats' favorite menu items…
ANGUS BEEF CHEESEBURGER TOPPED WITH BERT'S CHILI
$3.55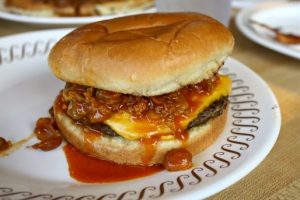 Waffle House
2580 Davie Road
Davie
(954) 792-8150
wafflehouse.com
Latest Review: 1/22/2016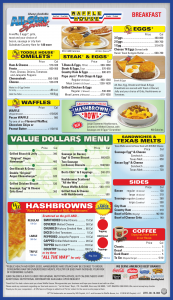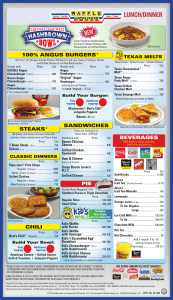 Love love love this joint!
Posted on January 22nd, 2016
***** Waffle House, 2580 Davie Road, Davie, Florida 33317, (954) 792-8150
Let the truth be told, Waffle House is one of Jeff Eats favorite joints to eat breakfast, lunch and dinner at! There I said it! I am a gigantic fan of this 2,100 unit 24/7 American "diner" chain which has been around since 1955. Over the years, Jeff Eats has eaten in Waffle Houses literally all over the place- yesterday, I did breakfast at the Waffle House located at 2580 Davie Road, in Davie.
Now you guys and Jeff Eats both know that this food "reviewing thing" is purely a subjective exercise- what I like you may hate and vice versa! That said, I challenge you guys to eat the Waffle House's- hasbrowns smothered in sautéed onions/covered with melted American cheese and smoked hickory ham chunks- pecan waffles- Texas Angus Patty Melt- grilled biscuits & sausage gravy and then honestly tell Jeff Eats that "it" wasn't like dying and going to heaven (I know, a bit dramatic!)!
You guys can check Waffle House's menu/locations/info at wafflehouse.com.