Bruce Vilanch (Boca Black Box- Boca Raton)
This story first appeared on June 25th, 2018. Just checked with the Boca Black Box (bocablackbox.com) and surprisingly there are a handful of really good seats left for Vilanch's- Saturday Night (10/6/18 8pm) show. Just a heads-up, you guys definitely want to see this Bruce Vilanch in action- he is absolutely brilliant. Check bocablackbox.com and goldstar.com (discount tickets) for tickets.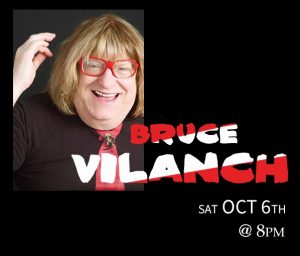 Posted on June 25th, 2018
* Bruce Vilanch.
Just announced…
The Skinny:
Bruce Vilanch
Saturday, October 6th, 2018 (8pm)
Boca Black Box
8221 Glades Road, Boca Raton, Florida 33434
Box-Office: (561) 483- 9036
Tickets: bocablackbox.com goldstar.com (discount tickets)
Jeff Eats and Mrs. Jeff Eats are definitely gonna be there…
from bocablackbox.com
One of the most sought-after jokesmiths in the entertainment industry, Bruce Vilanch has become a recognizable face in his own right, thanks to the feature-length documentary "Get Bruce!" (1999) and his one-time stint as a regular on "Hollywood Squares" (1998 ), for which he also served as head writer.
He made his feature debut as a dress manufacturer in "Mahogany' (1975), starring Diana Ross, and also contributed material to her live act. Mr. Vilanch put his Muppet-like persona to excellent use as Santa's number one helper in the syndicated TV-movie "It Nearly Wasn't Christmas" (1989). On the heels of "Get Bruce!", Vilanch performed his comedy stylings Off-Broadway in "Bruce Vilanch: Almost Famous" (2000). After a first act reminiscing on his odd path to almost famousness, he opened up the floor to questions in Act II, displaying his amazing ability for off-the-cuff one-liners. As he told US WEEKLY (June 12, 2000), there is a downside to celebrity: "Now, I get knocked if someone tries something that doesn't work. Before it was the fault of these anonymous people, 'the writers.'"
Vilanch began contributing to Academy Awards telecasts in 1989, collaborating with the likes of Billy Crystal, Whoopi Goldberg and David Letterman, and graduated to head writer in 2000. He has roasted celebrities like Elizabeth Taylor and President Clinton. The Whoopi connection led to his providing the notorious material Ted Danson performed in blackface at a certain 1993 Friars Club roast of his then-girlfriend Goldberg, but his resume also includes "You Made Me Watch You", the touching Emmy-winning valedictory Midler crooned as a send-off to Johnny Carson.
He scripted most of the Academy Awards telecasts over the last decade, two of which won Emmys, including the one featuring Billy Crystal's Hannibal Lecter entrance. Mr. Vilanch has also written for The Tony's, The Grammy's, The Emmy's, and just about every other award show to brighten your television screen. He also participates and volunteers at almost every charity function, especially those dealing with GLBT issues.
Mr. Vilanch capped off his 14th writing gig for the Oscars in 2003, wrote Bette Midler's 2003 Fall Tour and debuted in the popular Broadway hit, "Hairspray".
For the part of Edna Turnblad, Mr. Vilanch shaved off his famous 30 year old beard. No telling what's lurking in there…but one thing it has never been able to hide….TALENT!!!
Catch this talented fellow at Boca Black Box!