Pure Heart Band (Boca Black Box- Boca Raton)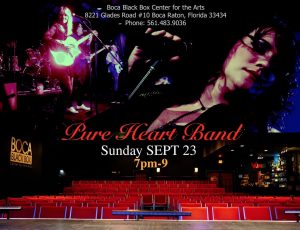 * Pure Heart band.
Literally 2 seconds ago, I picked-up 2 tickets to see the Pure Heart Band tonight (7pm) at the Boca Black Box in Boca Raton.
Been hearing some absolutely territic things about this South Florida based- Heart tribute act!
The Skinny:
Pure Heart Band
Tonight, Sunday, 9/23/18 (7pm)
Boca Black Box Center
8221 Glades Road Suite #10,
Boca Raton, Florida 33434
Box Office: 561.483.9036
Tickets: bocablackbox.com check goldstar.com for discount tickets
from bocablackbox.com
Pure Heart Band
All Heart music is played and sung very authentically, in true homage to Heart! The band features the powerhouse vocals of Tiffany Hoffelder who can belt out the power hits, or sweetly deliver the softer songs. The Pure Heart band features vocalist, guitarist Robyn Fear who is a natural fit fluidly covering guitar parts and harmony vocals. Band leader Mylo Anthony covers bass and additional harmony vocals, Denis Casaubon handles keyboard work, Mike McAuliffe doubles up on keyboards and lead guitar, and Anthony Vomero keeps the beat rocking on drums.
Catch them rocking the Boca Black Box this September!
________
If the Boca Black Box date doesn't work for you…
Scheduled Pure Heart Performance Dates:
2018:
​​Oct 12 – (Friday) Pompano Under The Stars! At the great lawn, corner of Atlantic Blvd and Pompano Beach Blvd. ( near beach) 7pm-9
Oct 27 (Saturday) – Galuppi's – Pompano Beach FL Federal Highway US1 / 7pm-11 with opening act
Oct 28 (Sunday) – at 3:45 … Civic Center Pl, Port St Lucie, FL
Dec 29 (Saturday) – Galuppi's – Pompano Beach FL Federal Highway US1 / 7pm-11 with opening act
2019:
Feb 14 – Cape Cabaret in Cape Coral, FL / 7- 9:30