Dave Mason & Steve Cropper: Rock & Soul Revue (Parker Playhouse- Fort Lauderdale)
* Dave Mason & Steve Cropper: Rock & Soul Revue.
Just announced…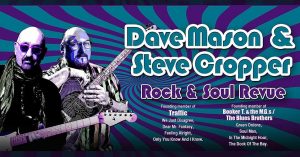 Mason and Cropper are legendary rockers!
This is going to be a great show.
Guaranteed SRO!
The Skinny:
Dave Mason & Steve Cropper: Rock & Soul Revue
Friday, February 15th, 2019 (8pm)
Parker Playhouse
707 Northeast 8th Street
Fort Lauderdale, FL 33304
Box Office: 954.462.0222
Tickets On Sale: 9/21/18 (10am) at parkerplayhouse.com
from parkerplayhouse.com
Rock and Roll Hall of Famers Dave Mason and Steve Cropper join and play together for the first time on one stage to deliver a night of timeless music and endless hits, performing material that defined a generation. Founding member of the band Traffic, Dave Mason is a highly successful solo artist, songwriter and producer, and has performed and recorded with numerous members of the pantheon of pop and rock and roll music including Jimi Hendrix, George Harrison, Paul McCartney, Stevie Wonder, Michael Jackson, Eric Clapton, Graham Nash, Fleetwood Mac, and more. Steve Cropper, member of Booker T and the MG's, the Stax Records house band during the label's most influential period, backed artists such as Otis Redding, Carla Thomas, Wilson Pickett, Sam & Dave and Rufus Thomas and member of The Blues Brothers Band. Don't miss this timeless Rock & Soul Revue. With Special Guest Gretchen Rhodes.