Louie Anderson (Broward Center For The Performing Arts- Fort Lauderdale)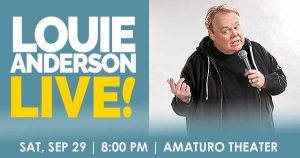 * Louie Anderson.
Tickets just went on sale!
Real funny guy!
Jeff Eats and Mrs. Jeff Eats will be there!
from browardcenter.org
Known for his role as Christine Baskets in the FX show "Baskets" and named "One of the 100 Greatest Stand-Up Comedians of All Time" by Comedy Central, Louie Anderson's humor is sure to leave you laughing and loving from the beginning to end.
The Broward Center is located in the heart of the Riverwalk
Arts & Entertainment District.
The Broward Center 201 SW 5th Avenue, Fort Lauderdale, FL 33312
Tickets: Ticketmaster | 954.462.0222/ ticketmaster.com