Peter Fogel's- Til Death Do Us Part…You First! (ArtServe Theater at Fort Lauderdale Library- Fort Lauderdale)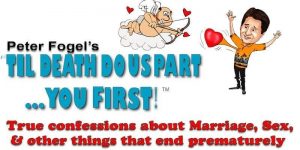 * Peter Fogel's- Til Death Do Us Part…You First!
Off the chart funny one-man show!
The limited-run show starring comedian Peter J. Fogel has been selling out rooms all over the country!
Just announced…
Peter Fogel's- Til Death Do Us Part…You First!
Saturday, September 22, 2018 (8pm)
ArtServe Theater at Fort Lauderdale Library
1350 East Sunrise Boulevard
Fort Lauderdale, FL 33304
Tickets: $30 (artserve.org)
from artserve.org
ATTENTION COMEDY & THEATER FANS: IF YOU LAUGHED AT "MEN ARE FROM MARS/WOMEN ARE FROM VENUS… " AND "DEFENDING THE CAVEMAN!" YOU WILL LOVE PETER FOGEL'S "TIL DEATH DO US PART… YOU FIRST!"
In fact, Actor/Comedian Ray Romano (Everybody Loves Raymond) says,
"A very funny show about marriage and relationships. Go see it!"
ETERNAL BACHELOR PETER FOGEL, 50'S, HAS MAJOR COMMITMENT ISSUES AND IS STUCK IN "MANOLESCENCE!" HE ALSO SENSES HIS OWN MORTALITY AND AFTER MUCH SOUL SEARCHING DECIDES TO REVISIT THE SCENE OF ALL HIS ROMANTIC DISASTERS.
And with that decision he brings you his auto-biographical tale of a comedian's Quixote Quest to finally searching for the one woman who can transform his life — with his hysterical multi-media solo show, "Til Death Do Us Part… You First!" True Confessions about Marriage, Sex, & other things that end prematurely
It's the holidays and Fogel is looking forward to a romantic evening with his girlfriend. Instead, she dumps him. Distraught and confused, he is magically visited by a Special Visitor who mentors him on how he continually screws up his own love life.
Fogel laments to the visitor:
"The longest relationship I've ever had is with T-Mobile!"
From the trials and tribulations of Marriage… to on-line dating… to "studying for his prostate exam…" Fogel mixes his signature wit along with riotous relatable characters and takes us on a whirlwind comedic journey of searching, finding… and eventually surrendering to his Soul Mate!"
"Til Death Do Us Part… You First" spins a heartwarming hilarious yarn. So if you're divorced, married… or ever been single (and that's everyone) and want to experience (again) the feeling of finding that Special Person to share your life with— then you'll want to fasten your seat belt for 90 minutes of Non-Stop laughs!.
Academy Award Nominee Chazz Palminteri (Bullets Over Broadway, The Usual Suspects, Bronx Tale) says…
"Fogels Sharp comedic writing and performance will make you look at your own relationships! A remarkably funny show with lots of heart!"
KPFK Radio
… A surprising and theatrical gem!"
The NY Post…
"The singles man, single man. Fogel tells such funny poignant stories about being single. One wants to go out and find him a suitable mate."
No-hoartsdistrict.com
"Fogel entertains us with anecdotes and characters that hold particular importance in his story, skillfully bringing them to life with his obvious gift for mimicry!"
For more show info; visit www.tildeathdousparttheplay.com
PORTION OF PROCEEDS WILL GO TO MS VIEWS and NEWS (www.msviesandnews.org) A NOT-FOR-PROFIT ORGANIZATION THAT EDUCATES AND ASSISTS PEOPLE WITH MULTIPLE SCLEROSIS!