The Capris featuring Michael D'Amore (Kings Point Delray Beach- Delray Beach)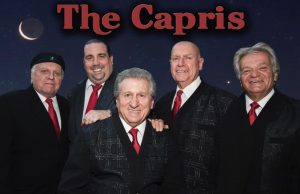 * The Capris featuring Michael D'Amore.
Now I maybe going out on a limb here- but if you want to see one of the best 1950's-1960's doo-wop group-(featuring an original recording member)- currently working America's Oldies'circuit- then buy yourself a ticket (box office: kingspointdelray.com) to see The Capris featuring Michael D'Amore which is scheduled to make an extremely rare South Florida appearance tomorrow night (Friday, 2/9/18) at Kings Point Delray Beach, 7000 West Atlantic Avenue, Delray Beach, Florida 33446 at 8pm.
Jeff Eats just checked Kings Point Delray Beach's online box-office (kingspointdelray.com) and there are a handful of tickets left for the show!
Jeff Eats and Mrs. Jeff Eats will be there!
from kingspointdelray.com
THE CAPRIS FEATURING MICHAEL D'AMORE
Friday, February 9th, 8:00pm
Tickets: kingspointdelray.com Box Office- (561) 499-3335
$18.00 Residents • $24.00 Non-Residents
The Capris are an American doo wop group who had a one-hit wonder with "There's a Moon Out Tonight." They experienced a popularity and performing resurgence in the 1980's when three members reformed and The Manhattan Transfer recorded their song. "Morse Code of Love," which took the airwaves and became a dance sensation. They have been performing for almost six decades and are honored to be in the Vocal Group Hall of Fame. Lead singer Michael D'Amore has had the pleasure to work as a "Duo" with recent Blues Hall of Fame inductee Angel Rissoff. He has had the pleasure of sharing the stage with groups such as "The Stylistics, "Lou Christie," "The Duprees," "The Tokens," "The Flamingos," "Larry Chance and the Earls," and so many groups he has admired over the years. This is a show you will not want to miss!!