TOTO- 40 Trips Around The Sun Tour (Pompano Beach Amphitheater – Pompano Beach)
* TOTO- 40 Trips Around The Sun Tour.
Jeff Eats just picked-up 2 tickets…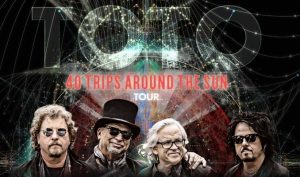 The Skinny:
TOTO- 40 Trips Around The Sun
Sunday, October 28, 2018 (8pm)
Pompano Beach Amphitheater
1806 Northeast 6th Street
Pompano Beach, Florida 33060
Box Office: (954) 946-2402
Tickets: theamppompano.org
from theamppompano.org
Few ensembles in the history of recorded music have individually or collectively had a larger imprint on pop culture than the members of TOTO. As individuals, the band members' imprint can be heard on an astonishing 5000 albums that together amass a sales history of a HALF A BILLION albums. Amongst these recordings, NARAS applauded the performances with 225 Grammy nominations. Band members were South Park characters, while Family Guy did an entire episode on the band's hit "Africa." As a band, TOTO sold 35 million albums, and today continue to be a worldwide arena draw staging standing room only events across the globe. They are pop culture, and are one of the few 70s bands that have endured the changing trends and styles, and 35 years in to a career enjoy a multi-generational fan base.
It is not an exaggeration to estimate that 95% of the world's population has heard a performance by a member of TOTO. The list of those they individually collaborated with reads like a who's who of Rock & Roll Hall of Famers, alongside the biggest names in music. The band took a page from their heroes The Beatles playbook and created a collective that features multiple singers, songwriters, producers, and multi-instrumentalists.