DISH OF THE WEEK (Sunday- 8/19/18- The Doghouse-Fort Myers Beach)
***** DISH OF THE WEEK (Sunday- 8/19/18- The Doghouse).
One of Jeff Eats' favorite menu items…
HANGOVER BURGER (topped-fresh cut fries/cheddar cheese/bacon/fried egg)
$9.50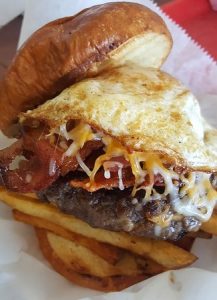 The Doghouse
1207 Estero Boulevard
Fort Myers Beach
(239) 940-1043
doghousefmb.com
Latest Review: 5/5/17
All I can tell you, is that this joint's food is off the chart delicious!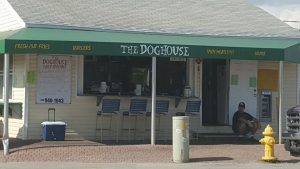 Posted on May 5th, 2017
***** The Doghouse, 1207 Estero Boulevard, Fort Myers Beach, Florida 33931, (239) 940-1043.
Got a terrific burgers/hot dogs/sandwiches/salads/daily specials, order/pickup at counter, outdoor table/counter seating joint for you guys- The Doghouse in Fort Myers Beach.
Jeff Eats, Mrs. Jeff Eats, Daughter Jeff Eats and Son Jeff Eats recently did lunch there and I gotta tell you guys, the food was absolute dynamite! Just so you know, if you wear anything more than a tee shirt/shorts/flip flops-sneakers, you're gonna be over-dressed! Casual with a capital "C"…
Like I just said, dynamite food
Just between you guys and Jeff Eats, I absolutely love joints like The Doghouse. Hole in the walls that shock the crap out of you- by serving off the chart killer food in a drama free- low key- relaxing atmosphere!
The Doghouse is open Wednesday-Monday 9am-8pm closed on Tuesday, (open 2/14-5/31 7 days a week 8am-10pm).
Trust Jeff Eats, that unless there is something seriously wrong with you, you will absolutely love this joint