4U A SYMPHONIC CELEBRATION OF PRINCE (Broward Center For The Performing Arts- Fort Lauderdale)
* 4U A SYMPHONIC CELEBRATION OF PRINCE.
This one was just announced…
Let's call a spade a spade- real fast- name, 4 songs that Prince recorded. Go ahead, I'll wait!
No question that Prince was very talented- all I'm saying- is that just maybe he isn't/wasn't all that well known to the General Public!
The show sounds interesting- but the bet here is that the Broward Center will have trouble filling the house on October 4th, 2018. Tickets are currently priced at $39.50/$75 plus fees. Look for discount tickets to be offered as the event-date draws closer.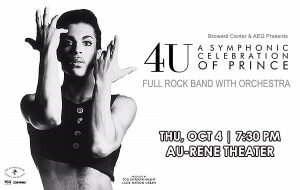 From browardcenter.org
Don't miss the only Prince symphonic show in the world exclusively endorsed by the Estate of Prince Rogers Nelson.
4U: A Symphonic Celebration of Prince, highlights the music in Prince's extensive catalog that captivated generations of fans.
World-class musicians and vocalists are joined with a live orchestra creating a truly unique opportunity to experience Prince's iconic music through a setlist and arrangements curated by acclaimed drummer and creative Questlove.
The Broward Center is located in the heart of the
Riverwalk Arts & Entertainment District.
The Broward Center 201 SW 5th Avenue, Fort Lauderdale, FL 33312
Tickets: browardcenter.org
Ticketmaster | 954.462.0222
Group Sales | 954.660.6307