The Lovin' Spoonful (Curtis Peterson Auditorium- Lecanto)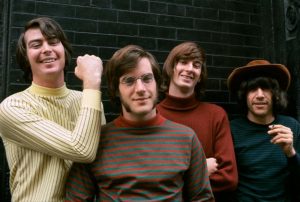 Joe Butler, John Sebastian, Steve Boone, Zal Yanovsky
* The Lovin' Spoonful.
For you guys who maybe wondering, original members Steve Boone and Joe Butler are in the current 5-man Lovin' Spoonful lineup!
Jeff Eats and Mrs. Jeff Eats saw The Lovin' Spoonful last year- trust me when I tell you, these guys put on an absolutely great show!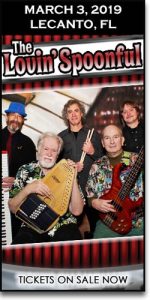 The Skinny:
from poprockdoowopp.com
The Lovin' Spoonful
Sunday, March 3, 2019 at 7:00 PM
Curtis Peterson Auditorium
3810 W Educational Path
Lecanto Florida 34461
Phone: (888) 718-4253
Tickets: ($22-$35) poprockdoowopp.com
If you remember "Do You Believe in Magic?" and "Did You Ever Have to Make Up Your Mind?", you're in the right place. According to the Rock & Roll Hall of Fame, between 1965 and 1968, The Lovin' Spoonful spanned the genres of jug-band music ("Good Time Music"), ragtime ("Day Dream"), country ("Nashville Cats"), folk-pop ("You Didn't Have to Be So Nice"), hard rock ("Summer in the City") and orchestrated pop ("She Is Still a Mystery"). Add to that "6 o'Clock" and "Darling Be Home Soon" and you've got the makings of one of the best vintage rock and roll concerts ever. The Spoonful features original founding members Steve Boone (who co-wrote some of the bands biggest hits) and Joe Butler, as well as Murray Weinstock (who played and sang on "Welcome Back"), Mike Arturi and Phil Smith.
Their first 7 single releases all made it into the Top 10 on the record charts. Early non-stop touring including a legendary run with The Supremes gave The Lovin' Spoonful an audience that most rock bands of the time did not have. Over the next 3 years, 6 original music albums and 12 hit singles followed.
In March 2000, the band was inducted into the Rock and Roll Hall of Fame and in 2012 The Vocal Group Hall of Fame inducted the band and shortly after that Steve & Joe were inducted into the Long Island Music Hall of Fame. To this day, they continue to tour worldwide but on March 3rd, they'll be in Citrus County at the Curtis Peterson Auditorium.