Grovetoberfest Miami's Beer Festival (Peacock Park- Miami/Coconut Grove)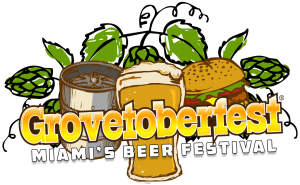 * Grovetoberfest Miami's Beer Festival, 2820 McFarlane Road, Miami Florida 33133, (305) 461-2700.
If you are a beer-drinker- this "festival" is an absolute must!
Jeff Eats and Mrs. Jeff Eats have been to 2- Grovetoberfests and I'm telling you guys, good stuff (beer/food/live music)!
On Saturday- October 13, 2018 your admission ticket gets you- unlimited "samples" of something like 22,000,674 different-beers (actually it's really something like 500)!
You can catch tickets/info at- grovetoberfest.com. Keep an eye-out for groupon.com discounts.
Just a thought, UBER! LYFT on speed-dial!
from grovetoberfest.com
THE LARGEST
CRAFT BEER FESTIVAL IN FLORIDA
Sat, October 13, 2018
2:00 PM – 7:00 PM EDT
PEACOCK PARK,
2820 MCFARLANE RD,
MIAMI, FL 33133
Info: (305) 461-2700
Tickets: ($44, $74, $89) grovetoberfest.com (Check Groupon.com for discounts)
Back in 2010, craft beer was just getting noticed in South Florida. But the team at Grovetoberfest was already jumping on the craft beer train. Since that time we've seen the craft scene in Miami explode and our festival has become the largest craft beer festival in all of Florida (by number of people AND number of beers). If you've been, don't miss the tradition. If you've never been, well… you're missing out on a true experience! A craft beer experience that marries the love of craft beer to an incredible social atmosphere.