In Dreams-Roy Orbison-The Hologram Tour (Parker Playhouse- Fort Lauderdale)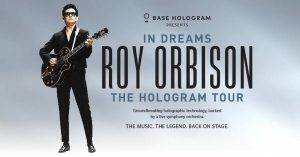 * In Dreams- Roy Orbison- The Hologram Tour.
This one sounds real interesting…
Tickets just went on sale!
————
In Dreams- Roy Orbison-The Holgram Tour
Sunday, November 18, 2018 (4pm & 8:30pm)
Parker Playhouse
707 Northeast 8th Street
Fort Lauderdale, FL 33304
Box Office: 954.462.0222
Tickets: ($37.50-$77.50) parkerplayhouse.com check goldstar.com (discount tickets)
from parkerplayhouse.com
In 1988 the phenomenal Roy Orbison passed away, leaving behind a timeless legacy and a collection of beloved songs. Since then the only access to his otherworldly voice has been through his archive of iconic recordings. Until now. "In Dreams" – Roy Orbison in Concert, is an extraordinary event that sees the man himself take to the stage via hologram, accompanied by a full live orchestra. As you watch Orbison sing his first notes into the microphone, you will thrill to the realization that you are part of rock and roll history – totally being rewritten.