Carcione's Pizza (Fort Lauderdale)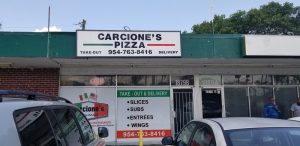 ***** Carcione's Pizza, 1879 Davie Boulevard, Fort Lauderdale, Florida 33312, (954) 763-8416.
Got a real good one for you guys, Carcione's Pizza in Fort Lauderdale.
Take-out only, full boat of pizzas/ pastas/ hot & cold subs/ entrees.
Hours:
Monday: Closed
Tuesday: 11am – 1:45pm
Wednesday & Thursday: 11am – 8:45pm
Friday & Saturday: 11am – 9:45pm
Sunday: 1pm – 8:45pm
Menu/info: carcionespizza.com
For you guys who may be wondering as to- how Jeff Eats found this hole in the wall-pizza joint with steel bars on its windows…Carcione's Pizza is 3 blocks away from the auto- body repair shop which Mrs. Jeff Eats unfortunately has-had to do business with- numerous times over the past 17 years!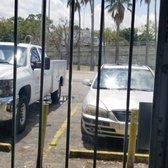 Anyway,
Yesterday, Jeff Eats and Mrs. Jeff Eats tried Carcione's Pizza and I gotta tell you that its food was real good! Jeff Eats, Mrs. Jeff Eats and auto body shop workers- Eddie, Carmen and Jamel (who shared our takeout order)- loved everything!
I know that some of you guys enjoy a drop of color- about the stuff that Jeff Eats- eats! With the caveat that what I like, you might hate and vice versa- I gotta tell you that the joint makes a real nice New York Style Slice- thin/crispy/sweet sauce/nice fold with the requisite oil drip…(hopefully, you can now start to appreciate how dumb this whole food reviewing food business really is).
Like I said 3 seconds ago, Jeff Eats, Mrs. Jeff Eats, Eddie The Body Shop Guy, Carmen The Body Shop Guy and Jamel The Body Shop Guy really enjoyed the joint's pizza, garlic rolls, sausage & peppers sub and chicken parm- and all five of us recommend that you guys give Carcione's Pizza a shot (just between you guys and me, I'm really thinking that Jamel knows his red sauce stuff😛)!