Today Is- National Hot Dog Day!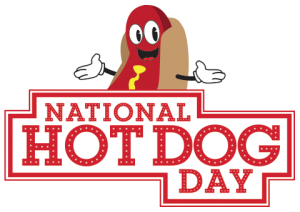 * Today Is- National Hot Dog Day!
Not sure as to how you guys will be celebrating this very special day…
Jeff Eats and Mrs. Jeff Eats got plans- gonna grill some Hebrew National Hot Dogs on our backyard bbq- then house them in soft warm buns- then top the dogs with some deli mustard and warm sauerkraut!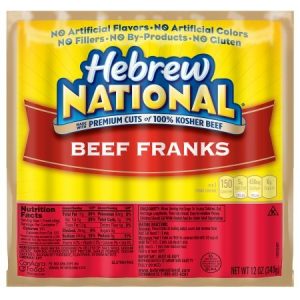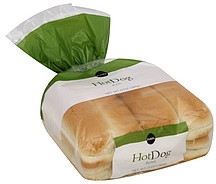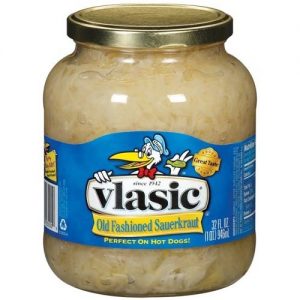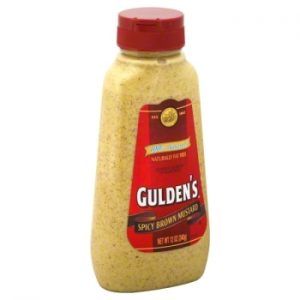 All things being equal, the finished "dogs" should look just like this…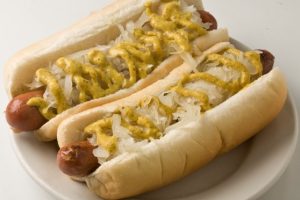 While we're talking hot dogs – You guys who put ketchup on your dogs, don't know dick about hot dogs!
Have a safe and happy holiday!
from nationalholidayscalendar.com
Hot Dog Day
The hot dog is a food that conjures up magical summer days at the ballpark or at an amusement park. There is nothing quite like the firm snap of its casing, it's delicious meaty smell or its savory taste. And this is especially true in the United States where it is one of the most iconic American foods ever – right up there with apple pie and the cheeseburger! This food is also celebrated with its own holiday. A holiday which is known as National Hot Dog Day and is celebrated annually in July during National Hot Dog Month, as set by the National Hot Dog and Sausage Council. So cook up your hot dogs in your favorite manner and celebrate this holiday right.
When is National Hot Dog Day?
This year (2018) July 18 (Wednesday)
Next year (2019) July 17 (Wednesday)
Last year (2017) July 19 (Wednesday)
History of the Hot Dog & National Hot Dog Day
While it's unclear exactly when the hot dog was invented, many people attribute it to sausages developed during the 13th century in Germany. These sausages were then most likely brought by German immigrants immigrating into the U.S during the 19th century. It is believed that as early as the 1860s, street food vendors were selling hot dogs in buns in New York City. Hot dogs were also sold by a street vendor in St. Louis, Missouri named Antonoine Feuchtwanger.
In 1893, the owner of the St. Louis Browns (now the St. Louis Cardinals) Chris Von de Ahe brought baseball and hot dogs together when he started selling them during games and also at the amusement park he owned. That same year, hot dogs were introduced at the Colombian Exposition in Chicago, Illinois. They became an instant hit.
Many people believe that the term "hot dog" began appearing towards the end of the 19th century. During this time, German immigrants not only brought sausages to America but they also brought dachshund dogs, so the term hot dog may just be a joke about German's thin dogs that got casually transferred to the sausages. This was probably reinforced by the fact that many Germans called these dogs "little sausages."
Today, there are a variety of ways to serve the hot dog – with many regional variances in the United States. Some of the more popular hot dogs include the New York Dog, the Chicago Dog, the Fenway Frank, the Coney Dog, the Rockie Dog, the Sonoran Dog, Michigan Coney Island Dog, Texas Dog, the Philadelphia Dog, Cleveland Polish Boy, Alaskan Reindeer hot dog, Seattle Cream Cheese Dog, Cincinnati Coney and the West Virginia Dog, among others.
National Hot Dog day was created by the National Hot Dog and Sausage Council to highlight the humble hot dog during National Hot Dog Month. Which is why they set the date for it every year. In 2016, it was held on July 14th and in 2017, on July 19th in 2017.
Red-Hot Hot Dog Facts
Hot Dogs & Hamburgers are a summertime staple in the U.S.
9 billion hot dogs are sold annually in the U.S.
Americans eat 155 million hot dogs on the 4th of July each year
From Memorial Day to Labor Day, 7 billion hot dogs are consumed in the U.S
26 million hot dogs a year are eaten at U.S baseball stadiums
In 2014, 7-Eleven sold over 60 million hot dogs
in 2017, 7-Eleven sold over 100 million hot dogs
Mustard is the most popular condiment for hot dogs
Ketchup and chili come in as the 2nd and 3rd most popular condiments
Celebrating National Hot Dog Day
Celebrating National Hot Dog Day is pretty simple. All you have to do is cook your favorite hot dog in your favorite manner. Do you like pork, beef, chicken, tofu or turkey dogs? Do you want to boil it, bake it, grill it, microwave it or saute it? Do you want to add condiments with it? Maybe you don't even want it in a hot dog bun. Perhaps you want to cut up your hot dogs and add them to your spaghetti or add them to some pork and beans or even chili. These are all things you are going to have to decide on this holiday. But no matter which hot dog you choose or which method to cook them, you can be sure that they are going to taste delicious and that this holiday is going to be a huge success.