Doo Wop Reunion XIX (Ruth Eckerd Hall- Clearwater)
* Doo Wop Reunion XIX.
Just announced…
This is a top-notch oldies-lineup!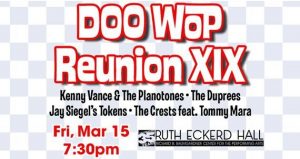 Details:
Fri, Mar 15 at 7:30 PM @ Ruth Eckerd Hall
Guys, slick back your hair; Girls, put on your poodle skirts – Let's cruise back in time to relive the greatest music as Doo Wop returns to Ruth Eckerd Hall for Doo Wop Reunion XIX featuring the long-awaited appearance of special guest Kenny Vance & The Planotones!
This all-star lineup of legendary musicians from the 1950s and 60s features:
Kenny Vance and The Planotones
"Looking For an Echo"
The Duprees
"You Belong To Me" "My Own True Love" "Have You Heard"
The Crests featuring Tommy Mara
"Sixteen Candles" "The Angels Listened In"
Jay Siegel's Tokens
"The Lion Sleeps Tonight" "Portrait of My Love"
Tickets are *$140, $95, $60, and $45.
*$140 Pre-show Party Package includes a premium seat, access to party lounge including high-end appetizers, dessert & coffee, plus one beer, wine or soda, beginning 2 hours prior to show time. Artist does not appear at party.
Tickets: rutheckerdhall.com
Ruth Eckerd Hall
1111 McMullen Booth Road
Clearwater, FL 33759